Interview with Aline Zorian, MD
A Conversation with Aline Zorian, Assistant Clinical Professor 
Tell us about your family.
I was born in Montreal, Canada, and spent my early childhood in Princeton, New Jersey. We moved to Santa Clara when I was in third grade, and I definitely consider the Bay Area to be home. I lived in Los Angeles for eight years during medical school and residency and just moved back to the Bay Area a little less than year ago when I started working here at UCSF. My parents are both Armenian and grew up in Aleppo, Syria. My heritage has always been something deeply important to me, and my whole family is very involved in the Armenian community, both locally and globally. I have one brother who is a year older than me and now lives in New York City. We have completely opposite personalities but are incredibly close. I owe most of my patience, resilience, and a few minor fractures to my amazing childhood with him.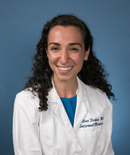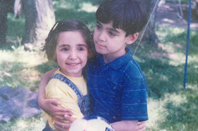 Some people would spend more to get the best food or clothing, what do you value most?
This is probably cheating because they can't be purchased, but I would say my family. They are absolutely what I value most in the world. They support me, inspire me, ground me, challenge me, and entertain me endlessly. One of the biggest joys of moving back to the Bay Area has been being able to see them more often. My parents are two of the most hard-working people I've ever met, and I'm always motivated by how they consistently choose to volunteer their time to benevolent work in addition to their full-time jobs. They have an incredibly strong sense of who and what is important to them — something I hope to emulate both in my work and in my personal life. 
What is something that you would do over and over again?
I am very much a creature of habit, and one of my absolute favorite things to do when I'm off service is to spend the morning reading in Golden Gate Park. I usually walk over early in the morning and bring a book and a very large coffee with me. I have a few favorite spots in the park but also love strolling around and finding new areas and trails. Being outdoors — away from work and from my couch — almost instantly recharges me, and I feel so lucky to live in a city that allows me to do this almost any day of the year.  
You've traveled quite a bit, what's the best vacation you ever took and why? What places do you recommend?  
My favorite trip ever was the summer I spent in Armenia between my freshman and sophomore years of college. I was technically there for a summer internship program, but it definitely felt like a vacation, especially because I was living in a house with 20 other Armenian college students from all over the world. I have so many incredible memories from that summer, and the friends I made during those few weeks continue to be some of my closest friends today. I had been to Armenia as a tourist once or twice before then, but that summer was the first time I fully immersed myself in the community and culture. If you're looking for a country with stunning natural scenery, rich history, and delicious cuisine, I definitely suggest you check it out. In terms of more recent trips, last year (pre-pandemic) I had the chance to travel to Iceland and Morocco — both of which I highly recommend! Both countries are absolutely beautiful and allow for a great balance of exploring and relaxing. If you are ever interested in planning a trip, I would love to share itineraries and tips! This year, I'm hoping to explore more locally and planning a Utah national park trip. 
If you didn't go into medicine, what would you be doing as a career? 
I've always been fascinated by mysteries and wanted to be a private detective. Growing up, I read every mystery book I could find at the library, and detective shows continue to be my some of my favorite comfort tv watching (literary hero Hercule Poirot, television hero Adrian Monk). I've always been drawn to the appeal of uncovering the truth and creating order from chaos. I feel that the best detectives rely on deductive reasoning, attention to detail, and — maybe most importantly — an ability to connect with and understand others. To be clear, I've never solved an actual crime, but I'm absolutely ready to put my sleuthing skills to work. 
The world and culture are constantly changing, ​​what are some things or habits you've had to unlearn to adapt? 
The most challenging thing I had to unlearn was a discomfort with uncertainty. I've been a bit of a perfectionist for as long as I can remember, so my natural tendency is to think and re-think and re-re-think things before making a decision. Over the past few years, I've slowly learned to accept and embrace uncertainty, which has actually been so invigorating. It's allowed me to approach my clinical and non-clinical work more creatively and collaboratively, and also helped me to stretch outside of my comfort zone (including moving here!). 
- by Lena Loo
View Aline's professional bio | Go back to interviews