A Conversation with Faye Chan, Assistant Clinical Professor 
You were recently married, congratulations! Can you recall one special image of your wedding day that will remain in your heart?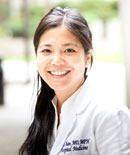 There are so many! We got married in New Zealand because my husband is part Kiwi. If asked to choose one image, I would say it was my first glimpse of the ceremony site from my car. We got married on a 33,000 acre farm in the high country that belonged to a sheep farmer my husband had previously befriended. The ceremony itself was on an isolated clearing deep within his property, sitting on a small mountaintop. Driving around the bend and catching site of the little cluster of people, surrounded by looming mountains with a Maori welcome chant echoing in the air was amazing.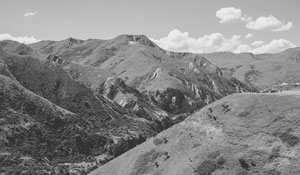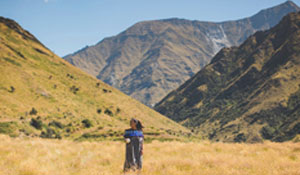 Where were you born and raised? Would you tell me about your family?
I was born in Philadelphia where my dad did part of his surgical training. I was a year old when he got his first attending job in Los Angeles. Then when I was 10, my family and I moved to Taiwan when my dad decided to quit clinical medicine and change his career to hospital administration and health policy. At 15, I returned to the US to go to boarding school in California. My studies subsequently took me to Chicago, then Boston and New York. I suspect all this moving around is the reason the sense of home is very important to me. To me, "home" doesn't have to be in a particular location—family and friends and their support system are "my" place. They provide me the familiarity, stability, and connections that have grounded me my entire life and created my sense of home. Fortunately, my husband who grew up between New Zealand, Japan, and the US himself, feels similarly.
Describe an aroma or fragrance that is irresistible to you. Is there one that is not so irresistible?
I love food and am a huge foodie so I definitely live to eat. My dad said that when I was little, it was scary how much food I ate and how much I loved it. He thought I would go into the restaurant industry because I loved food so much. Due to my love of food, I also love to cook. My specialty is comfort foods. I make a pretty mean braised lamb shank. Lately I've been experimenting with warm, hearty vegetarian dishes.
Did you, as an Asian-American physician, have any particular impressions of the Chinese economic presence during your work in Uganda and South Africa?
I did notice a prominent Chinese aid presence in the IDP (Internal Displaced Persons) camps when working in Uganda in the form of food and clothing. But to be honest, I don't know enough about China's economic presence in Africa to make a generalization and my Taiwanese political biases also likely cloud the picture as well. What I can say though is that China has engaged in health aid to Africa for decades and has recognized it as a form of diplomacy in which to improve international relations and build political and economic capital. Their contribution has no doubt had some positive health effects and outcomes. However, the question is what will happen moving forward. With China's increasing drive for modernization and economic competitiveness, one can only hope it will guide African countries out of poverty rather than serving its own economic agenda. The continent has suffered too much pillaging already.
Describe a time when you absolutely knew that you must take an action with or without the approval of your loved ones.
I've been very blessed in the sense that I haven't had a lot of expectations put on me by my loved ones other than to do my best. I've always been very independent and have made decisions for myself since I was 14 when I moved away from home so I tend to do what I believe I should do. One decision that I knew I must take action on, believe it or not, was practicing medicine. Because my father left clinical medicine somewhat disenchanted with the field himself, he was somewhat hesitant when I decided to pursue a medical career myself, concerned about the commitment and sacrifices involved. With my husband having a career of his own in Japan and my family still in Taiwan, choosing to continue my path in clinical medicine in the US has also been a challenge, but continues to be something I feel compelled to do. I simply cannot imagine not practicing medicine.
Are you sports-minded or artsy?
Artsy, although I think I want to be more artsy than I am. I sing and I paint, though I would have to say my appreciation for music and art is far greater than my ability to produce them. My aesthetic is more modern, from the Impressionists to contemporary art like Duchamp and James Turrell. I like art that forces the viewer to interpret his or her own meaning from the piece and takes ordinary objects out of their normal context to help us question its form and function. Similarly, I enjoy studying architecture as it allows one to consider the form and function of a space and all that fills it, with the additional dynamic variable of human interaction. If I hadn't become a doctor, I think I might have become an architect.
Is your best friend a kindred spirit or complete opposite? What makes your dynamic work?
My best friend is a kindred spirit while my husband is my complete opposite. I like to think my husband and I complement each other. He is an outdoor adventure enthusiast who is always on the move and an extreme sports addict who will jump off any bridge or snowboard down any mountain if given the chance. He is willing to try anything once. I, on the other hand, will analyze everything and calculate the risk-benefit ratio of every almost every decision I make. He is very outgoing and could probably have an interesting conversation with a rock, while I a complete introvert. With that though, he makes me explore things that I wouldn't otherwise and I ground him, so it works. We challenge each other.
Thank you so much, Faye.
- by Oralia Schatzman
View Faye's professional bio | See previous faculty interviews