Interview with Katherine Li
A Conversation with Katherine Li, Assistant Division Manager
Where were you born and raised? Tell me about your upbringing and what kind of little girl you were.
I was born in San Francisco at the Chinese Hospital where Bruce Lee was born. I was left alone to my own devices in terms of doing my homework because my mom's English was limited. I didn't go to pre-school, and I don't even remember how I learned English—maybe by watching cartoons. I was a pretty easy-going kid, for example, if I wanted something from Toys "R" Us and was told no, I shrugged and moved on. My brother was the opposite, he would throw a fit until my mom gave in, mind you, he is two years older than me.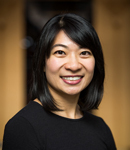 Can you share an unusual story about your name?
I have a Chinese name that no one except a mother of my friend uses: Lei Geet Toong; 李潔彤. I also have a nickname that my mom has called me since around middle school when I gained some weight: Fat Girl; 肥妹. I think she was using reverse psychology on me.
What achievements are you proud of and what else would you like to accomplish?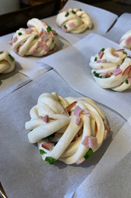 Personally, I collect cookbooks, like the Rich Table Cookbook, and I hope to someday make more time-consuming or complex recipes like their savory Porcini
Doughnuts with Raclette Dip, which are dusted with mushroom powder. Professionally, I am most proud of redesigning our website (from this to this) when I joined the division. I took classes and really enjoyed developing the website to be more user friendly and informational. I really liked the process of working from conception to implementation. Since then, DOM has launched a new template to provide branding among the divisions in the department.
Do you plan your weekends or do you prefer being spontaneous? Do you prefer activity or laid-back?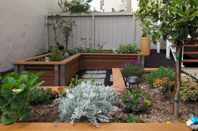 I like a little of both. If we have something planned, then I want a day with no plans to bake or just sit on the couch and veg. My husband enjoys being a plant daddy, so one thing we often do is go to the nursery for new varieties of plants, shrubs, and trees. In our yard, we have an assortment of things growing: a tangelo tree, a lemon tree, blueberries, strawberries, rosemary, thyme, and non-edible plants that he loves.
What do you not mind splurging on and for what do you resent having to pay?
I splurge on really good sushi because it is such a craft. The rice has to be good-quality sushi rice with a nice texture, flavor, and seasoning. The fish has to be treated, either marinated or aged. Sushi is something we love to treat ourselves to. I like to think that my husband's palate has become more refined since we've been together. He is open to trying new things and can tell the difference in quality, although I am happy that he will also eat everything and anything that I cook. I resent paying a lot for Chinese food, which should always be tasty and be at reasonable cost. There are a couple of fancy Chinese restaurants in San Francisco that, if someone treated me, I would be happy to try, especially dishes I haven't had, but wouldn't necessarily go back.
How did your interest in food develop? What expectations do you have when visiting a new restaurant?
Exposure during my early twenties. A then-boyfriend's family loved fine dining and introduced me to different cuisines and wines. Then, friends and I explored the food scene and we were always the first to try new restaurants. To me, dining out is the whole experience: the company, service, ambience, and quality of the evening. Some people like to buy purses and shoes, but I don't like shopping, I like eating.
Have you ever developed a cocktail that you think would be a best seller? What ingredients would make it irresistible?
Not yet but, if I could, it would have citrus because it's refreshing and clean. Drinking depends on the type of weather, the food, and how I am feeling at that moment. At home, we usually have wine and champagne, but I might make a Negroni cocktail, which has three ingredients: Campari, vermouth, and gin.
Where have you traveled? Where in the world is on your "must visit" list?
So far, I've traveled predominantly in Asia: Japan, China (Hong Kong, Macau, Shanghai), Thailand, and Vietnam. But I've also traveled in Europe: France, London, Iceland, and Denmark. I love Japan, but it is expensive compared to its neighbors. Our next adventure will be in Spain, probably in Barcelona, where I have a couple of restaurants that I really want to go to. A more detailed itinerary is pending if we can secure reservations before booking airfare.
What talent or skill would you like to possess or cultivate?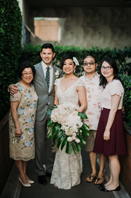 Swimming—I don't know how to swim! Yet I love being in and around water. After our Hawaiian wedding, we almost died—maybe a bit of an exaggeration—when
we were floating on donut pool floaties in Waikiki Beach. We didn't realize that we had drifted toward the sea wall that divides the swimming area from the deeper water that goes to the ocean and, when we reached it, the tide "flushed" us down like a toilet and then the next wave pushed us right back in!
What's the nuttiest, most un-Kat-like thing that anyone has ever talked you into doing?
This interview!
Thanks, Kat, for everything.
- by Oralia Schatzman
View Kat's professional bio | Go back to interviews