Interview with Lauren Linett
A Conversation with Lauren Linett, Professor
As one of the newest members to our DHM family, tell us a little more about yourself.
I was born and raised in Toronto, Canada, and I am the second of four siblings. My father is from Albany, New York, and my mother is from Montréal, Québec. My family roots are from Poland, Russia, and Ukraine. I have an amazing husband, two incredible step-kids, and one new little one on the way. I also have a Havanese poodle who is currently back in Toronto.

Growing up, we always had Friday night family dinners. The whole family got together and caught up on the week while enjoying some fantastic matzo ball chicken soup.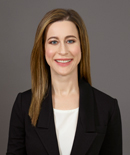 Among your friends and family, what are you most famous for?
When I was younger, I was often a disaster in the kitchen. I had the Fire Department over on several occasions and even lost my eyebrows to a BBQ. Luckily, my culinary skills got better over the years, and today I enjoy cooking and entertaining
What initially got you interested in this field?
Before going to medical school, I spent time in a lab in Toronto doing basic science research. I thought I would become a clinician-scientist, following in the footsteps of my outstanding mentor. Over the years, I realized my interests shifted, and I chose a path in Hospital Medicine. I have found that opportunities have presented themselves, leading me down roads I would never have imagined in my career. My advice to my earlier self would be not to plan too far ahead, work hard, and seize new experiences that challenge and excite me.
What is the hardest lesson you've learned as a hospitalist?
Being new to UCSF and the US health care system has been a big adjustment. Coming to a new institution and being surrounded by such high-quality talent is exciting and rewarding. It also meant leaving behind a role and a system that I knew and where I felt most comfortable. Life, however, is about continuously moving forward and developing your craft. Often, shifting away from inertia is the hardest part, and at the same time, it becomes the most fulfilling and character building.
What is the most heartwarming thing you've ever seen?
In this new COVID-19 era, it is fantastic to see how engaged and compassionate health care workers have been towards continuing to provide the highest quality of care to patients and their families. Everyone knows that we are all experiencing challenges during this time, yet people seem to leave that at the door when they come to work and devote their energy and efforts to the task. It has also been wonderful to see how engaged the leadership at UCSF is to ensuring safety for all and compassion and genuine caring for their groups.
- by Lena Loo
View Lauren's professional bio | Go back to interviews