Interview with Michelle Cai
A Conversation with Michelle Cai, Quality Improvement Analyst 
My twin sister, Cathy! She's been with me my whole life, literally. She's my best friend and confidant. Good or bad news, she's always the first person I go to if there's anything on my mind. We're both outgoing and amplify one another, maybe sometimes a little too much. She inspires and motivates me to step out of my comfort zone, and has taught me to love myself. She is currently working with the Department of Pathology in the Health Sciences West (HSW) building. Feel free to stop by and say hi!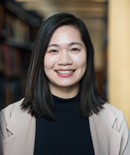 Where have you traveled to? What is your favorite memory of something that happened in another country?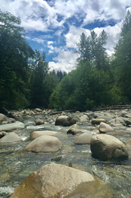 I studied abroad in England and explored a few countries in Europe (Scotland, Hungary, Czech Republic, Rome, and Spain). I've also traveled to volunteer in Nicaragua, Honduras, and China. But a favorite memory was from my recent summer trip to Canada. I traveled alone to Vancouver and decided to visit the 30 Foot Pool in Lynn Canyon Park. There is something so tranquil about the river, I ended up sitting on one of the large stones for over 2 hours enjoying being in the moment and reflecting on life and my future. The feeling of no expectations or stress and being able to focus entirely on myself was truly a gift.
What's your favorite sport team to play or watch
Growing up, I played basketball, volleyball, track and field (mainly field events), competed in Olympic weightlifting, and also played rugby for a semester in college. I probably enjoyed Olympic weightlifting most because of the close-knit community. It enabled me to travel around the United States for competitions and also provided me the opportunity to compete internationally in Lima, Peru. I still visit the weight room occasionally to see all of my friends and will get a workout in while I'm there! My favorite sport to watch is basketball and I'm a Klay Thompson rather than a Warrior's fan.
What book had a big influence on you?
"Being Mortal" by Atul Gawande. The book not only sparked an interest in end-of-life care, but also prompted me to think about the quality and type of life I want to live. To enjoy and live life in the present, and try not to sweat the small stuff. It's highly taboo to speak about death in Chinese culture, and end-of-life conversations are stigmatized and considered extremely bad luck. But I understand the importance of having these conversations, and hope to one day understand my family's wishes and choices. I've learned that it is never too early to start the conversation.
Do you have any nicknames?
Mui (妹), meaning "younger sister" in Cantonese. My sister's nickname is Jie (姐), meaning "older sister" in Cantonese. All my close friends call me Mui and please feel free to call me Mui if you like! :)
If you could only eat one cuisine for the rest of your life, what would it be?
My go-to cuisine would be Japanese food. It is so versatile; tea, sushi, udon, ramen, chicken katsu, miso soup, and seafood to name a few. But the one food I would eat for the rest of my life barring health consequences is potato. I love potato in its many forms; baked potatoes, french fries, curly fries, tater tots, potato wedges, mashed potatoes, potato salad... I would eat it all!
Why are you interested in quality improvement?
Since college, I've wanted to work in healthcare in a non-clinical capacity. At my first job with UCSF, I stumbled into the QI world and it was at that moment that I understood this is my calling, to do meaningful QI work. I'm drawn to QI because I find meaning and importance in helping patients and family members during a vulnerable time. I ultimately want to leave the world a little bit better than I found it (as cliché as that sounds). I've only just begun my career, and hope to continue to grow my QI expertise and become a crucial member of DHM and the hospital.
What is your favorite family tradition?
Not really a tradition, but my siblings (two older brothers and Cathy) and I learned to play Mahjong last year. Every time we visit my parents, it's almost guaranteed we will all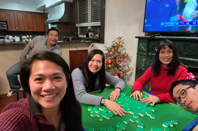 play Mahjong through the night. It's a time where we catch up and bond as a family, but also a time where we break out in hysterical laughter and entertain each other with friendly competition. Maybe it's my parents' way of getting us to visit more often, but I always look forward to going home on the weekends.
View Michelle's professional bio | Go back to interviews