Interview with Rashmi Manjunath
A Conversation with Rashmi Manjunath, Assistant Clinical Professor 
Where were you born? Tell me about yourself and your family.
I was born and raised in Mission Viejo, CA, a suburban town in Southern California. My parents still live in the house we grew up in, and my room still has its lavender walls (a middle school dream). Mission Viejo is one of the largest master-planned communities ever built in the United States and even has its own man-made lake.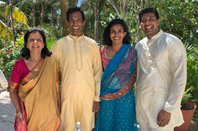 My parents both grew up in Bangalore, India, and immigrated to the United States in the 1980s. They are software engineers and get excited talking about all things computer programing. I have one younger brother who lives in New York City and works at the New York Federal Reserve. We are a pretty tight-knit family — lots of family road trips, hiking adventures, and beach visits growing up.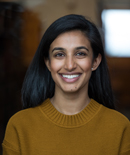 What do you consider your greatest accomplishment? You can't say becoming a doctor!
Running a marathon! My dad started running marathons when I was in college and I figured if he could do it, I could too. I ran the Long Beach Marathon the day before my first medical school exam, which was incredibly stressful at the time. I downloaded all the lectures from that block to listen to while I ran. After about 2 miles of listening to several monotonous, pedantic lectures, I had to turn back to music. My memories of the race are (1) listening to "Hakuna Matata" from The Lion King on repeat (a song I didn't regularly listen to before the race, or even after) and (2) feeling like the last 6 miles were pure pain. The only thoughts going through my head by the end of the race were, "Put one foot in front of the other" and "I am never doing this again." But literally seconds after crossing the finish line, my first thought was "I want to do that again." The camaraderie and spirit of the runners and the crowds was incredibly powerful.
How has your first year here at DHM been? Do you have any specific interests and/or goals that you would like to work toward as a faculty here?
I've enjoyed my first 6 months here! Everyone has been incredibly kind and welcoming. As new faculty, my main focus is on building my clinical skills, so I'm thoroughly enjoying my time on service discovering my professional identity. I'm still in the process of finding my specific interests. Currently, I am mostly working on meeting people as well as figuring out how the hospital functions and how I function in the hospital.
What is one thing on your bucket list to do in the next 5 years? Why?
It's on my bucket list to be on a jury. I'm not sure how much control I actually have over this but I'm fascinated by the criminal justice system. Some of my favorite books (In Cold Blood), podcasts ("Serial, Slow Burn") and documentaries are about true crime. I came really close once to being on a jury but promptly got dismissed because I worked in the medical field. And I would be lying if I said I wasn't disappointed.
Something on my bucket list that is probably more in my control is visiting all 62 US National Parks. I have visited 10 so far, so I have my work cut out for me if I want to do it in 5 years. My favorite so far is probably Olympic National Park.
The most attainable bucket list item is probably going to a Lakers game at Staples Center. We are huge Lakers fans, and some of my favorite childhood memories were watching games with my dad and brother. Kobe, Shaq, Robert Horry, Derek Fisher, and Phil Jackson all feel like important characters in my childhood.
Where is the last place you travelled to? What's your favorite memory from that? This could be travel for work or vacation.
One of the last places I travelled to was Tulum, Mexico, for a family wedding. Incredible history, gorgeous beaches, refreshing food. I have two favorite memories: sitting on the beach with a piña colada reading Bad Blood, and eating local food with my grandma, aunts, uncles, and cousins, some of whom I hadn't seen in years.
What is your most treasured memory to-date?
My most treasured memory to-date is collectively the summer before my second year of medical school. I spent 6 weeks in Bangalore, India, getting to spend time with one of my favorite people, my grandfather. He was a prominent general surgeon with a feisty spirit, boundless energy, and exceeding practicality. By that point, he had been retired for some years, but previously had been the superintendent of the local government hospital, well-known for his bowties and surgical acumen, even getting nicknamed the "bloodless surgeon." That summer, I would go see him almost every day. We would sit, drink tea, and just chat. It was humbling to hear the stories of his childhood in a rural village or his voyage across the world in a ship to complete a surgical fellowship in England or his journey as a medical educator and mentor. He shared some of my favorite advice, "Don't forget how much just your presence and your smile can help heal."
Are you a live-to-eat or eat-to-live person?
That's easy — a live-to-eat person. I love cooking, watching cooking segments, eating in, or eating out. One of many reasons I like to run is to feel less guilty about eating. I'll pretty much eat anything except beef and sushi but go through phases of obsessions. My first year in residency, I ate so much pho I think my water content was 80% chicken pho broth. Currently, I am going through a donut phase and have been to Bob's Donuts more often than I care to admit. As a complete separate side note, if you are looking for a delightful food-based shows to watch, check out the "Bon Appetit" videos.
If you had no financial worry and could live anywhere in the world, where would that be, what would you be doing, and who would be there?
I think I'd want to live in British Columbia or New Zealand. For work, I'd be part-time teacher, part-time bookstore owner. My days would be mix of reading, photography, hiking, and volunteering. I'd have a medium sized, moderate energy, cuddly dog and a couple good friends and family who live close.
Given the choice of anyone in the world, who would you want as a dinner guest and why? This could be someone from the past or present.
Michelle Obama — she's an incredibly strong, interesting, multifaceted woman. I really loved her memoir, Becoming, and would want to pick her brain about her journey as a female professional and being deliberate about personal growth. Plus, I'd want to hear some behind-the-scenes government gossip.
- by Lena Loo
View Rashmi's professional bio | Go back to interviews