Hospice and Palliative Medicine Fellowship - Highlights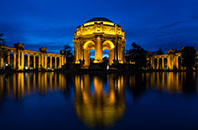 UCSF's Fellowship in Hospice and Palliative Medicine has many strengths. Some particular highlights include:
Advisor Program:
In a one-year fellowship fellows must almost immediately focus on long-term goals such as career and longitudinal projects. Ideally, job goals align with and are enhanced by electives as well as required scholarly and QI projects. Our advisor program matches each incoming fellow with a faculty advisor to help navigate these aspects of the curriculum and find his or her way around the UCSF system.
Access to remarkable clinicians provided the unique opportunity to grow as a bedside physician and as a leader to improve our healthcare system.
American Academy of Hospice and Palliative Medicine (AAHPM):
Fellows are expected to attend the annual AAHPM Annual Assembly, which takes place in February or March. To facilitate their attendance, conference time is protected and our program reimburses conference expenses.
Scholarly Project:
With the many projects taking place at UCSF, we provide the space for you to be involved in a project of your choosing. We hold a forum for UCSF faculty to present their current projects to allow for you to fully understand the scope and responsibilities.