Nearly 200 hours of continually updated didactic content designed specifically for our fellows is taught weekly by experienced interprofessional educators and leaders in the field of Hospice and Palliative Medicine.
Content themes include:
Communication
End-Stage Disease
Function
Hospice / End-Of-Life Care
Leadership, Health Systems and Policy
Pediatrics
Professionalism
Quality Improvement
Scholarship
Symptom Management
Teaching / Education
Whole Person Care
For a complete list of all didactics, please click here.
Formats

Lecture, small group discussion, role-play/simulation, workshops, and others. The focus is on interactive learning whenever feasible.
Additional Elements and Themes

Case Conferences: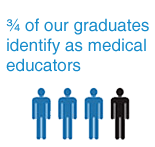 Education and Teaching:
Communication:
Journal Club: