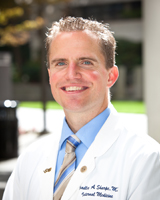 The UCSF Division of Hospital Medicine (DHM) at Parnassus was founded in 1996 after the landmark publication by Robert Wachter and Lee Goldman in the New England Journal of Medicine which was the first to describe the field of hospital medicine and coin the term "hospitalist". Since that time we have grown to our current state which includes more than 90 faculty and 30 staff members.

Our vision is to be the best division of hospital medicine by promoting excellence in each individual faculty and staff member and collectively as a group. We take tremendous pride in providing high-quality, equitable, safe, efficient, cost-conscious, and patient-centered care across all of our ten inpatient services. We also strive to excel in multiple other domains including: teaching and education, research and scholarship, quality improvement and patient safety, high-value care, global health, social medicine, and clinical informatics.

Our success as a Division is driven first and foremost by the people—we seek to recruit and hire talented individuals with passion and intrinsic motivation. We commit as a Division to maintain challenging and rewarding clinical roles and to allow individuals to pursue their academic interests. We also commit to providing the necessary mentorship, infrastructure, and methodological support. We combine all that with a culture of collaboration and collegiality and set people up for a successful and satisfying career in academic hospital medicine.
The Division of Hospital Medicine has a fundamental commitment to diversity (viewed through every lens). We seek to hire and retain faculty and staff from diverse backgrounds and meet the needs of our diverse patient population. We strive to provide equitable care and to ensure an inclusive learning environment for our trainees.

Please take a look around at the website—you will see all of the tremendous activities and achievements and get a sense of the outstanding faculty and staff in the Division. If you are interested in a faculty position or one of our fellowships, just click on the Jobs tab. If you have any questions or if I can provide any information, please feel free to reach out to me directly.

Sincerely,

Brad