Interview with Adrienne Green
A Conversation with Adrienne Green, Chief Medical Officer 
How do you maintain focus with so many obligations and how do you channel your energies?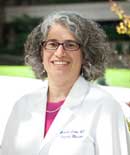 Focusing energies has everything to do with prioritization, deciding what is the most pressing thing I must do today, whether family or work-related. Things that are low priority sometimes have to wait so that I can get the things done that are most important. I have a hybrid electronic and paper system for managing my to-do's but the things that are at the top are usually just in my head.
Do you have a green thumb? What are your favorite flowers?
I would say I have a light green thumb. I have an amazing north-facing kitchen window where orchids grow well. I love to plant bulbs in the fall so that I can cut freesia in the spring and have them sitting on my kitchen table. Freesia and sweet peas are my favorites.
My kids make me laugh. They are always coming up with things that are surprising, funny, and witty. While leaving a friend's home recently, one of my boys hid and then jumped out and scared everybody. We were all in stitches because it was totally uncharacteristic for him. I loved it.
Which book is an old companion and why? Is there an author you particularly like now?
There are so many books! There isn't a particular one that I have read and re-read. My recent favorites are The Invisible Bridge, Paris Wife, and Loving Frank. For escapism, I enjoy the Nesbø series. I just read Katie Hafner's new book, and it was very well written and touching.
Where were your grandparents from? Do you recall hearing stories about how they lived?
Three grandparents were from Poland and one was from Russia. My dad's dad escaped from the Polish army during World War I by cutting holes in his shoes so that he would be injured or get frostbite. He was sent to an infirmary and escaped from there. He was one of the youngest of 11 kids and contacted an older sister who lived in New York. She regularly sent him money thinking that he was saving the money to come to America. But he thought that she was married to a wealthy banker and instead used the funds to travel the world. When he finally arrived in America, he found this huge extended family living in a tiny tenement apartment on the Lower East Side.
What music do you love and what can you not stand?
I really can't stand the rap that my kids love. It makes car rides a little stressful. From a music perspective, I am stuck in the 70s and 80s, happy with pop and rock.
Do you take after either parent? Are you very different or are there traits that you share?
I have bits and pieces of both of my parents' traits. Both were detail-oriented, hardworking, and studious types. My mom was totally a shopper and clotheshorse; she was always well put together. I definitely do not take after her in those ways. In other realms, my whole family loves to read, cook and eat good food together, and spend time exploring the outdoors.
What is a family favorite dish that you prepare? Is it one you inherited or made up?
I inherited tried and true recipes like lasagna and my maternal grandmother's matzo ball soup and her lemon bars. We're still making them and my kids love them as much as my parents and I did.
Does the neighborhood in which you live evoke memories of where you grew up?
No, it is completely different. I grew up on a hill in Portland with a tiny cul-de-sac where there were three houses. Although it was in Portland proper, we were in the middle of a forest so we could venture around the forest and sled down the hills when it snowed. We love our SF neighborhood but it is totally different than Portland.
Are your last thoughts as you retire, pragmatic or do they wander?
My thoughts wander and I've become a Scramble With Friends addict at bedtime because it is such a complete escape, and I read a lot for the same reason.
Thank you, Adrienne.
- by Oralia Schatzman
View Adrienne's professional bio | See previous faculty interviews