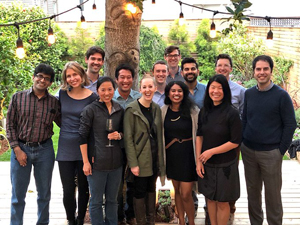 The UCSF Division of Hospital Medicine hires several new faculty each year into a wide array of positions. Our goal is provide new faculty with a diverse clinical experience that matches their interests while creating opportunities to explore and develop a path for academic success. We are currently recruiting for both immediate openings and positions for the 2021-2022 academic year.
Click here for more videos on UCSF and San Francisco
Academic Hospitalist Positions
Academic hospitalist positions in the Division of Hospital Medicine combine clinical experiences on the teaching, direct care, and consult/co-management services as well as some protected time for faculty development. Interested candidates are encouraged to look over the variety of clinical services we offer, as well as our scholarship and educational programs. We would also encourage candidates to read some of our faculty bios to get a sense of the diverse job descriptions. For individuals seeking additional training, we have a number of different fellowship opportunities; you can find more information here. Click here for current job and fellowship opportunities.
Successful candidates for faculty positions will be graduates of excellent internal medicine programs with strong references. Successful candidates will have evidence of or potential for outstanding teaching and demonstrate potential for academic success. Faculty interested in research-oriented positions (ie, with "protected time" for research) should have completed a research-intensive fellowship in general or hospital medicine, epidemiology, outcomes, or similar coursework.
We strongly encourage applicants from diverse backgrounds or who can make a unique contribution to diversity to apply. At UCSF, we define diversity broadly including race, culture, religion, mental or physical abilities, age, gender, sexual orientation, distance traveled, and first generation professional.
Clinical Hospitalist Positions
The Division of Hospital Medicine also has outstanding clinical hospitalist positions, which focus on expanding and improving clinical skills. Many applicants for clinical hospitalist positions ultimately intend to apply for fellowship positions. In particular, because of the nature of the services, those who might eventually apply for a cardiology, pulmonary/critical care, or hematology/oncology fellowship position are a good fit. Other applicants for these positions are unsure of their future goals and want to focus on their clinical skills.   
The clinical hospitalist positions can combine clinical roles on different services including two of our subspecialty hospitalist services: the Advanced Heart Failure (AHF) Hospitalist Service and the Heme-BMT Hospitalist Service, as well as our general medicine or consult services. The hospitalists on the AHF/Heme-BMT Hospitalist Service manage the day-to-day care of the patients while the cardiologists/oncologists provide the necessary specialized care. Schedule, hours, and salary are competitive. Most applicants for clinical positions also have night shifts where they admit general medical patients, cross-cover on patients, and sometimes supervise housestaff. 
In addition, hospitalists on our subspecialty services will have the opportunity to get involved in teaching of students and housestaff if interested. The start date for both positions is flexible and we do hire individuals for one-year positions.
Fellows
Interested applicants for all positions should apply through AP Recruit with a letter of interest, their CV, and three references at the DHM Job Board. Candidates must possess an MD degree, be Board certified/eligible, and be eligible for licensure in the State of California.
UC San Francisco seeks candidates whose experience, teaching, research, or community service has prepared them to contribute to our commitment to diversity and excellence.

The University of California is an Equal Opportunity/Affirmative Action Employer. All qualified applicants will receive consideration for employment without regard to race, color, religion, sex, sexual orientation, gender identity, national origin, disability, age or protected veteran status.