Mount Zion Medical Service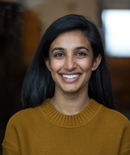 Rashmi Manjunath, MD
Medical Director of
Mt. Zion Medical Service
The Mount Zion campus of UCSF Health reopened as an inpatient site on April 29, 2020. The inpatient component consists of an 18-bed acute care unit, a 28-bed surgical short stay unit, and a 7-bed ICU unit. The acute care unit supports Hospital Medicine patients while the surgical unit supports Orthopedic Surgery as well as other smaller surgical and procedural services including ENT, Radiation Oncology, Pain Medicine, and Endocrine Surgery.
Our Mount Zion Hospital Medicine service has two teams. One team provides direct care services, admitting and caring for Hospital Medicine patients. Since Mount Zion does not have its own emergency room, our patients are transferred from the UCSF EDs at Mission Bay or Parnassus as well as from Parnassus inpatient teams. In addition, we care for patients with planned admissions for IR, Pain Medicine, or Ophthalmology services. We have specific criteria to identify patients who are medically appropriate for transfer to Mount Zion for care.
The second team provides co-management for Orthopedic Surgery patients and consults for all other surgical services. In the co-management model, our hospitalists work closely with the Orthopedic Surgery physicians, PAs, nurses, pharmacists, and physical therapists to provide comprehensive perioperative, patient-centered care. We screen Orthopedic Surgery patients on their day of admission to identify patients at higher risk of medical complications who would benefit from proactive management by a hospitalist, and we also provide support for any preoperative medical evaluations or acute medical issues.
Please contact Rashmi Manjunath at [email protected] with any questions about the Mount Zion Hospital Medicine service.