Academic Hospital Medicine Fellowship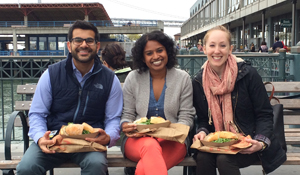 Our goal is to develop the next generation of hospital medicine leaders in quality improvement, medical education, and clinical operations.
The One-year Academic Hospital Medicine Fellowship (AHMF) program at UCSF is tailored to graduating residents or early-career hospitalists who anticipate careers as clinician-educators or clinician-administrators. Since 2002, we have launched the careers of many fellows who have subsequently become nationally-recognized leaders in hospital medicine.
Our program provides fellows both an individualized career-development plan combined with core experiences in clinical research, teaching on the wards, and quality improvement. The AHMF is co-directed by Margaret Fang and Kirsten Kangelaris, prominent leaders in the field of hospital medicine, clinical research, and medical education.
Fellowship Core Experiences
AHMF Fellows participate in a series of core and elective activities detailed below; fellows are encouraged to select an area of interest in advance:
Clinical Training
Training in Clinical Research Methods
Training in Clinical Teaching
Mentorship
Should I do a Hospital Medicine Fellowship?
If you are wondering what a hospital medicine fellowship can do for your career, our former fellows have some answers for you. Click here.
To Apply: Applicants interested in the UCSF Academic Hospital Medicine Fellowship should upload the following to the DHM Job Board:
Applicants must have completed (or be in the final year of) a residency in Internal Medicine at an accredited, US-based institution and must be a US citizen. Applications for positions beginning July 2024 will be accepted through December 15, 2023 (admissions are on a rolling basis with the last date being December 15).
Program Contact
Program Director: Margaret Fang, MD ([email protected])
Associate Program Director: Kirsten Kangelaris ([email protected])
Program Coordinator: Jennifer Lee ([email protected])