St. Mary's Medical Service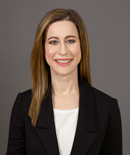 Lauren Linett, MD
Medical Director of
St. Mary's Medical Service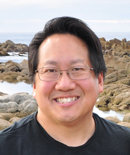 Matt Jeong MD
Assistant Medical Director of
St. Mary's Medical Service
The Medical Service at St. Mary's Medical Center (SMMC) launched in 2018 as a core component of the expanding partnership between UCSF Health and Dignity Health to collaborate and combine the best of both academic and community-based health care (see UCSF press release August 8, 2017 here). At SMMC, our faculty care for patients admitted through both the UCSF Medical Center and St. Mary's Emergency Departments, as well as direct admissions from referring clinics. St. Mary's is one mile from the UCSF Parnassus Heights campus.
St. Mary's is a 336 bed community hospital run by CommonSpirit (formerly Dignity) Health, the second largest non-profit hospital chain in the United States. SMMC houses a 23-bed acute rehab unit, a Long Term Acute Care (LTAC) run by Kentfield, and the McAuley Adolescent Inpatient Unit for short-term psychiatric hospitalization of adolescents. In addition to routine physical, occupational, and speech therapy, specific rehab programs include cancer rehab, hand therapy, incontinence treatment, post-stroke care, and a lymphedema clinic.
Emergency Medicine is staffed by a private multi-specialty doctor group called Vituity (formerly CEP America). The ICU is staffed by a group called Sound Physicians. Consultants are mostly private single or multi-specialty doctor groups, but Podiatry is run by UCSF and there are other UCSF services present as well (limited Cardiology, Electrophysiology, Vascular Surgery, Plastic Surgery).
Starting October 1, 2018, UCSF DHM assumed care of all Hospital Medicine patients at SMMC. There remains a small team of patients staffed by private PCPs with admitting privileges. Our service structure consists of two teaching teams, two to three direct care teams, a swing shift, and night coverage. Aside from a small subset of patients cared for by either private physicians with admitting privileges or by the Orthopedic resident team, we care for the full breadth of clinical medicine at SMMC, including patients with acute neurologic, cardiac, and surgical problems.
Questions about the Medicine Service at St. Mary's can be directed to Lauren Linett at [email protected] or Matt Jeong at [email protected].