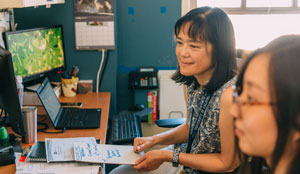 Our mission is to improve the health of hospitalized patients through the delivery of high-quality, high-value, evidence-based, and patient-centered care.
The Research Core of the UCSF Division of Hospital Medicine advances this mission through promoting the application of rigorous research methods to quality improvement, outcomes assessment, medical education, organizational delivery, and the care of hospitalized patients.
Founded in 1998, the UCSF DHM Research Core holds a remarkable legacy of high-impact contributions to research in hospital medicine. The Research Core is comprised of 12 people who share a wide range of diverse interests and expertise. In addition, the Research Core supports the larger Divisional research efforts and collaborates closely with the many other active investigators within our group. Members of the Research Core are nationally recognized investigators and have received numerous honors and awards, including through the Society of Hospital Medicine, the American Geriatrics Society, and the Society of General Internal Medicine. Dr. Andy Auerbach served for 7 years as Editor in Chief for the Journal of Hospital Medicine.
Faculty in the DHM Research Core have expertise in:
Cohort studies and pragmatic clinical trials

Outcomes research and pharmacoepidemiology using large databases

Applying deep machine learning to electronic health record data

Qualitative research, including mixed-methods approaches, focus groups, and one-on-one interviews
The DHM Research Core is actively leading research in the following areas:
Hospital-medicine delivery and organization

Post-hospitalization outcomes, including readmissions and mortality

Patient engagement and health communication

Interprofessional education and palliative care

Cardiovascular epidemiology and comparative effectiveness outcomes research, particularly in venous thromboembolism, atrial fibrillation, and stroke

Pharmacoepidemiology

Digital health and the intersection of health information technology with clinical practice
Please click here for the DHM Project Tracker.
DHM Research "Incubator" Program:
The Division of Hospital Medicine Research "Incubator" program was founded in 2008 by Drs. Auerbach and Fang to provide faculty and trainees with research consultancies and expert advice on the conduct of clinical research and scholarly work. The program has successfully supported numerous hospitalist fellows, junior faculty from the Division, and faculty from other departments, including Emergency Medicine and Pediatrics. Hemali Patel (previous Academic Hospital Medicine Fellow), Kirsten Kangelaris, Margaret Fang, James Harrison, Andy Auerbach have published a paper in the Journal of Hospital Medicine describing the DHM's Incubator. 
Core Research Faculty:
Margaret C. Fang, MD MPH (Research Director)
Professor of Medicine
Cardiovascular outcomes research using large databases, anticoagulation, venous thromboembolism, stroke, atrial fibrillation, pharmacoepidemiology
Ashraf Abugroun, MBBS
Assistant Professor of Medicine
Andrew D. Auerbach, MD, MPH
Professor of Medicine
Healthcare systems and organizational delivery, implementation and outcomes research, quality measurement, digital health innovation, pharmacoepidemiology, patient-engaged transitions
Seth Blumberg, MD, PhD
Assistant Professor of Medicine
Liz Dzeng, MD, MPH, PhD
Associate Professor of Medicine
Medical sociology, medical ethics, end of life care, palliative care, moral distress, potentially inappropriate life sustaining treatments, neoliberalism, structural racism, social justice, anti-racism, human-centered design, qualitative research 
James Harrison, PhD
Assistant Professor of Medicine
Patient engagement, quality improvement, health services delivery
Colin Hubbard, PhD
Senior Statistical Scientist
Kirsten N. Kangelaris, MD, MAS
Professor of Medicine
Biologic markers of organ dysfunction in sepsis, ARDS, critical-illness risk stratification
Nader Najafi, MD
Associate Professor of Medicine, Director of DHM Data Core
Sandra Oreper, MPH
Academic Research Coach
Observational research methods, clinical epidemiology, implementation and outcomes research, Infectious diseases and infection prevention practices
Priya Prasad, PhD, MPH
Assistant Professor of Medicine
Treatment heterogeneity, comparative effectiveness, methods to address causal infererence in observational studies
Akshar Rambachan, MD, MPH
Assistant Professor of Medicine
Himali Weerahandi, MD, MPH
Assistant Professor of Medicine
In addition to our core research faculty, many other members of our division have active research programs, and include:
Julia Adler-Milstein, PhD
Professor and Director of the Center for Clinical Informatics and Improvement Research (CLIIR)
Health informatics, clinical informatics, health policy, healthcare delivery, health services research
Raman Khanna, MD, MAS
Associate Professor of Medicine
Health information technology, clinical informatics
Lynnea Mills, MD
Associate Professor of Medicine
Health communication, medical education
Bradley Monash, MD
Professor of Medicine
Healthcare organization, medical education
Michelle Mourad, MD
Professor of Medicine
Quality improvement, value, health communication
Sirisha Narayana, MD
Associate Professor of Medicine
Medical education