Faculty Development and Mentorship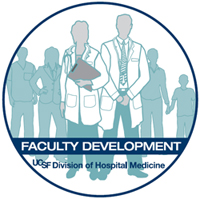 Our mission is to help faculty thrive by providing support and resources to advance their career and find purpose, fellowship, and joy in their work.
Overview:
UCSF DHM Faculty Development was founded in 2009 to promote faculty satisfaction, increase retention, and promote scholarship. Please explore our links below for additional information or contact our team for questions or additional information.
Conferences
Weekly Monday DHM Meeting

Weekly Noon Conference
Topics and Series: Medical Education, Professional Development, Service Updates, Clinical Reflections

Divisional Grand Rounds

CME accredited
Monthly
Sample Topics: Updates in Hospital Medicine

Visiting Professor Program

Invited leaders from other academic institutions

Lecture, Meetings, Social Events
Faculty Retreat
State of the Division
Team Building Activities
Strategic Planning
Off-site
First Year Faculty Program
3-Site New Faculty Bootcamp

Joint Program across UCSF Hospitalist Groups
½ Day Event
Institutional Leaders speak on relevant new faculty development topics and tips

Stanford Faculty Development Teaching Course

Fall Seminar Series
Key Principles of Effective Teaching

Mentorship Program

Interest Matched
Interest/Peer Mentor and Career Faculty Mentor
Individual Development Plan

A Closer Look Series

6-part monthly series with divisional leaders
Exploration of key topics and scholarly domains
Mentorship
Individual Development Plans
1:1 Meetings with Faculty Years 2-5
Mentoring Council
Leadership Development Workshop
Offered to all early-mid career faculty in the DHM
Week-long workshop series blocked off from clinical work
Focusing on core principles of self-awareness, communication, and change management
Diversity, Equity, and Inclusion
DEI Grand Rounds
Co-Programming – Social Medicine Core
Tea House Series
Additional Mentoring Opportunities
Faculty Development Leadership
Steven Ludwin, MD
Associate Professor of Medicine, Co-Director of Faculty Development DHM
Career Interests: Faculty Development, Professionalism, Hospital Medicine Training
Stephanie Rennke, MD
Professor of Clinical Medicine
Co-Director of Faculty Development, DHM
UCSF Health Site Director, School of Medicine, Clinical Microsystems Clerkship
Career Interests: Health Systems Science education, Medication Safety, Communication/Shared decision making
Jonathan Duong, MD
Assistant Professor
Director of Faculty Development at St Mary's
Natalia Loaiza
Project Coordinator