Interview with Alon Unger, MD
A Conversation with Alon Unger, Assistant Clinical Professor
Tell me about your family, please. What special memory is your touchstone when you are far from them?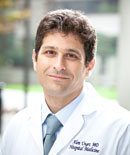 My parents were Israeli immigrants who met in Canada, where it was too cold, so they moved to Arizona, the hottest place on earth. My Dad is gone now but my Mom, an Iraqi Jew, started a little mobile restaurant trying to sell Israeli food but, in the early 1980s, it didn't sell so well in Phoenix. She learned to make tamales and Mexican food and my parents ran a Mexican restaurant until about 3 years ago. It wasn't kosher but they didn't serve pork or menudo. I miss my Mom's great cooking, she was a great cook. She always made the same thing on Friday nights, something my wife, who is Columbian, is starting to do, too, which is very sweet.
Who is/was your most inspirational role model in life, in medicine?
As a kid, I looked up to Gandhi. Nelson Mandela, a really amazing human being. One of the greatest things I ever did was visit Robben Island to see the cell where he hid the pages of the book he wrote while he was in prison. As a really young kid, I remember images of the Ethiopian famine as being terrible. I don't know if that's why I went into medicine but I do remember, as a 6- or 7-year-old, stealing my Mom's credit card and making a donation over the phone, which they found about much later.
What is the first thing you go to in the morning paper?
The BBC is my homepage and I see the top headlines, then my next step is usually sports, usually European football, soccer. I tend to close the paper really quickly if I see bad news so it doesn't affect me while I am in the hospital.
Are you passionate about sports? Are you a sportsman yourself?
I am passionate about European football but lately I've been interested in Formula One, partially because a European sports channel was all we got in Burma, where I was for the past year. I love playing soccer although I don't play as much as I used to; I was a defensive midfielder but I like to play forward.
Where or what is home to someone who has lived in so many places?
Right here, right now! Arizona, where I grew up. Although I've lived in a bunch of places, that are all beautiful, whenever I fly over the desert, it always feels like home. I am really attached to the desert in the Southwest.
How do you prefer your coffee?
My go-to is a small Americano with Half & Half and sweetener. But at home, I drink my wife's coffee, which is usually Juan Valdez, and she makes the best coffee ever. She makes it by hand in a pot. She doesn't use a filter or anything, just stirs it—and it is delicious. I have tried to do exactly what she does but cannot; my coffee tastes terrible. There is just something different about the way she makes coffee.
Why were you drawn to Global Health?
I love being in the settings that Global Health takes me and the contexts of its challenges. Some areas are both incredibly poor and incredibly rich at the same time, and incredibly complex in terms of material and structural resources. They are so culturally rich with lots of local traditions … I really like that kind of interaction. For me, medicine is a lot about interaction with the patient and the medicine they have is interesting and fascinating, things we don't see here. You can make big differences with very little interventions and that gets me excited. For instance, in Burma they have few treatment options, so if something doesn't work, they are very limited. What impresses me is the resilience of the people in the way they gracefully manage very difficult situations. They are amazing people despite being repressed for so many years.
When do you most enjoy family celebrations?
We are not big on holidays but we are big on family. We love spending time with our families whenever we can get away. My wife traveled for years for the UN, as part of the Office of Coordination of Humanitarian Affairs, managing agencies involved in post-humanitarian crises. She doesn't do it alone although she probably could.
Can you please share an anecdote that illustrates a complexity or contradiction in your personality?
I believe in the science of medicine, in looking for evidence, and in all the things in which we were trained, but I am very superstitious. Oftentimes, I find myself wanting to knock on wood but there is usually not much wood in a hospital. I grew up with a very superstitious mother so we avoided black cats and she would spit twice over her right shoulder. Even in college, I would find that she had put salt in my pockets to protect me, practices that her mother had passed on to her. So I find that some of that has rubbed off but it's not very medically scientific.
What is in your current Netflix queue?
I don't have Netflix but I love movies. I loved Forrest Gump and I saw the Matrix twice in one weekend, once with my Dad and the next day, I went back and watched it again.
Are you someone who relies upon GPS or who doesn't mind being lost?
I don't mind being lost but I am utterly attached to my GPS. I don't need or depend upon it, but it is so useful. I use it on my phone but not in my car, because I can't stand the voice telling me where to go. If it was Samuel Jackson or someone cool, maybe, or Darth Vader or Robin Williams, THAT would be fun. If I could have anybody be the voice on my GPS, it would be Robin Williams, then I would use it but I just don't like being told where to go.
Do you have a favorite motto or saying to live by?
Carpe noche, although I don't think it's a real saying. I would love to sleep and, if I could seize the night and sleep a good 8 hours, then I would carpe noche!
Thank you, Alon.
- by Oralia Schatzman
View Alon's professional bio | See previous faculty interviews