Interview with Crissy Thao
A Conversation with Crissy Thao, Program Manager
Tell us a little more about yourself and your family.
My family is HUGE! I am number 8 of 14 children. We have 10 girls and 4 boys. My parents came to the US as Hmong refugees after the US Secret War in Laos. Since my parents lost most of their family from the war, they wanted to have a big family so my siblings and I would never be alone. I was born in Fresno, CA, but we moved to Madera, CA, when I was about 5 years old. My parents wanted us away from the influence of Asian gangs so we could have a better future. Growing up, I hated Madera because we were the only Asian kids in school and we lived in the middle of nowhere in the country side. It's funny because I always dreamed of the day I could move to the big city of Fresno, and now I live in the actual big city of San Francisco! Out of my entire family, I would have to say that I am most like my older brother Ly! You could say that we're kind of like the President and Vice President of our family. We look over my younger sisters, and the rest of the family come to us whenever they need anything.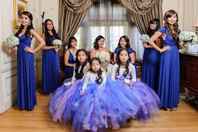 I always wanted to be a singer as a child. I would spend hours every day locked in my parents' room singing and learning new songs. English is not my first language so singing also helped a lot with learning English. We had CDs in a few different languages, so I also became very good at singing phonetically in different languages too. The closest that I got to being a singer was performing in my school talent shows and choir competitions. I even placed a few times. Now the only singing I do is karaoke with my friends.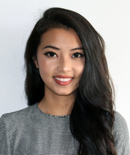 Coming from such a large family, there should be a lot of interesting memories. What's something you did as a child that your parents still retell the story about?
My mom always retells the story about how she tricked me into being a good student. When I started elementary school, I was apparently the worst student out of my all siblings. My mom then made a deal with me and the rest of my siblings that she would give us $20 for every semester that we got straight As. Once we graduated high school, we would receive the money. I was in third grade at the time, and starting from then, I got straight As every semester. I was super determined, and I even kept a notebook that I used to track how much my mom owed me. On my high school graduation day, I asked my mom if she was going to give me my prize, and she said that my prize was getting into my dream college with a full ride scholarship. My mom and my siblings still tease me about how I was the only kid in the family who took it seriously. I have to admit, it was the best trick ever!
What is your greatest accomplishment? Why did you pursue a career in health care?
Graduating from my dream school with my BA and MPH without any student debt was my greatest accomplishment. I was very privileged to receive the Gates Millennium Scholarship that allowed me to attend UC Berkeley. Berkeley completely changed my life for the better. I've known I would work in health care since I was very young, because my family always struggled with the health care system. While pursuing my MPH, I started taking some informatics and product development courses and really enjoyed them. I quickly became interested in how technology was changing how we deliver and receive care. Knowing what I know now, I would advise my younger self to try out/learn different things that just seemed fun and interesting to me, because health care involves so many different skillsets.
If you had unlimited resources, how would you live your life and what would you do?
(Besides ending world hunger and homelessness of course!) I would buy a lot of land in Thailand where I could live with my partner and our dog Hachiko and rescue elephants from elephant tourism. The elephants (and Hachiko) would be able to roam freely, eat to their hearts desire, and never have to pose for a photo again. Hachiko, however, will always have to pose for photos. .
Is there a place or country you would visit over and over again?
Japan! I love Japan and I have actually visited over and over again. Four times to be exact, and I
still want to go every year. The food is amazing, there are so many different things to do and see, the shopping is endless, the architecture is super cool, and everything is super cute and CLEAN! I'm pretty sure Japan has the cleanest public transportation in the world. It's also home to the original Hachiko whom my dog is named after!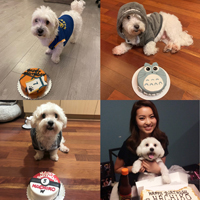 I love planning trips and hosting parties for my loved ones. Whenever my friends and I decide to take a trip, I'll usually plan everything out to the hour and put together an itinerary for everyone. My partner and I also host Friendsgiving and Christmas at our place every year. We just about host almost all of our friends/family get togethers. Any time there is a birthday or celebration in the group, I'm usually the person that rallies everyone up. The best party every year though has to be my dog Hachiko's. I usually throw a themed party and get Hachiko the most amazing dog cake. Past themes we've done include Pokemon, Totoro/Studio Ghibli, and Basketball/Warriors. Our lives always seem to get busier, so I love being able to bring all my favorite people together whenever I can.
- by Lena Loo
View Crissy's professional bio | Go back to interviews