Interview with Jenica Cimino
A Conversation with Jenica Cimino, Program Manager, Quality and Safety
What field sports have you competed in in past and what new sports have you recently attempted?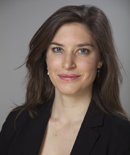 I was the first girl in Marin County to play Little League Baseball with the boys as a middle schooler, where my presence caused a bit of kerfuffle, but by the second season, the novelty had worn off. I played field hockey, basketball, and lacrosse at St. Ignatius in San Francisco and, in my senior year, I had to decide between Division 1 field hockey or lacrosse. Both sports have become more popular and there are now competitive leagues throughout California. I am currently on a co-ed touch football team called the "Ron Burgundies" that has won five championships in six seasons. When I was in Switzerland 5 years ago, I purchased a longboard and taught myself to skate on the streets of Zurich. Skating is such a beautiful and daring sport but I'm not resilient or reckless enough to do stunts. One of my hobbies is photographing skateboarders and documenting skate culture in different parts of the world.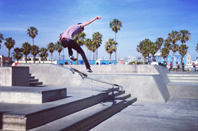 Is it fair to say that you are a competitive person? With whom do you most compete?
Competition is motivating for me, but I am more competitive with myself than with others. I have high expectations of myself, and I perform best in a supportive team setting where others set a high standard through their example. I will push myself to perform my very best, but I am not looking to out-do others for the sake of winning. In my professional life that means being extra thorough, sometimes to my detriment, as I may focus too much on certain details, especially when it comes to graphic design or writing.
Your surname may date back to the Etruscans. How far back can you trace your heritage on either side of your family?
I am Italian on both sides of the family. My dad's side is Sicilian/Welsh/Irish and my mom is 100% Italian—she immigrated here when she was 5. One of my cousins in Missouri is an eccentric and passionate Catholic priest who researched our genealogy and found, on my paternal grandmother's side, settlers who came to the United States from Wales in the 1800s. My mom's side came from a rural, isolated village in the mountains of Northern Italy and their main claim to fame was a nearby castle where Dante supposedly visited and wrote Purgatorio. And, from each side of the family, I also have distant Arab and Jewish ancestry.
Please tell me about your family and how they have helped shape your outlook.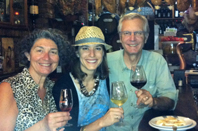 I am the baby of the family and have an older sister who lives here in San Francisco. She is married to a UCSF anesthesiologist and intensivist who I met while doing research on communication with patients' families, so I am also a part-time matchmaker. Maybe it's an Italian thing, but I am very close to my family; there is a lot of reliance on one another. My extended family owns an Italian club in the Mission District, called the Marche Club (for the Marche region of Italy), that hosts holidays, events, and banquets. It has helped maintain our heritage and sense of community since my family immigrated here in the mid-20th century. It is straight out of the 1950s and has a huge dance floor, kitschy sports bar, and industrial kitchen. My dad's side puts out a family newsletter called The Traveling Savanna Times, for Savanna, Illinois, a small railroading town where my dad was born. Each year, the entire family is asked to submit stories and photos, kind of like a yearbook. My Uncle Nunzio funded it in perpetuity to ensure that we stay in touch with our extended family throughout the US, Europe, and Puerto Rico. My folks live in Marin, and we spend a lot of time together. My parents are both incredible cooks and my sister was trained as a chef, so we bond around cooking. Fresh, seasonal ingredients from the farmers' market are essential and everything is made from scratch. My parents are highly principled people who give much of themselves and have always placed a premium on community and putting others before yourself. They're deeply spiritual and taught my sister and me the importance of service and using whatever talents or resources we have to help others.
To whom do you instinctively turn for guidance, comfort, or a kick in the pants?
My sister. She is very candid and direct. She'll tell me exactly what she thinks without hesitation. She is fast-thinking and fast-acting in everything she does, and I find that refreshing because I'm more deliberative. She will come to me about complicated interpersonal dynamics at work or relationship issues that require a more nuanced approach. I go to her when I've weighed all my options and am left with no decision. I also appreciate my girlfriend for her diplomacy, sensitivity, and social/political savvy.
Please describe a collaborative effort that you truly enjoyed and helped hone your talents and drive.
I learned a lot about collaboration through working with the Palliative Care Service and ICU nurses. When I started doing research on communication in the ICU, I was struck by how supportive nurses were of one another; if someone had a free moment, s/he would ask others in the unit if they needed any help. Their empathy also extended to families who sat at the bedside for hours on end, often forgoing sleep and meals. They, along with the PCS, first introduced me to interdisciplinary health care in action. I admire the way PCS clinicians provide care from a full-person perspective, taking cues from patients and families, and strategically deploying each team member to address specific needs, whether physiological, emotional, spiritual—all of it. I am proud to have witnessed that quality of caring in the family meetings and interviews I've conducted over the last 7 years, and I continue to champion palliative care efforts in my work. I enjoy teaching and have found opportunities to do so within the UCSF Health System from facilitating workshops to coaching Lean management techniques through the Medicine Unit-Based Leadership Team (UBLT).
What are your creative outlets? What would you like to do with any one of them?
I've always enjoyed writing and even began a novel, which is still saved in my files until I can get back to it. I am working on establishing routines because, in order to be productive at the level that I would like, I need more structure in my life. I am always working on time management. My iPhone is a constant companion: I type notes and take photos that I save along with little blurbs about each. I tend to get deeply immersed in conversations with patients, colleagues, or Uber/Lyft drivers and sometimes will record casual conversations (with permission) with people I meet outside the hospital. I enjoy using Instagram, and since November 8, have bolstered my civic engagement through Twitter, direct action, and grassroots organization. My goal this year, which I am admitting to keep myself accountable, is to get published in The Huffington Post, The Atlantic, or The New York Times.
Where have you not yet traveled that you strongly feel you should or must?
Antarctica. It is the only continent that I haven't been to, and I've always wanted to go there. It is supposed to be one of the most spectacular places in the world with its abundant wildlife and open space. And, because the glaciers are melting. I experienced that in Iceland where we went ice climbing and our route up had melted by the time we came back down. Going to Antarctica would feel like a complete journey—not a comprehensive expedition of the world—but a very rich sampling.
Thank you, Jenica.
- by Oralia Schatzman
View Jenica's professional bio | See previous faculty interviews