Interview with Jennifer Feld
A Conversation with Jennifer Feld, Quality Improvement Analyst 
Where were you born and raised? Please tell me about your family.
I was born in Highland Park, Illinois, a suburb about 40 minutes north of Chicago, and was raised in nearby Deerfield. My mom went into labor with me the night they moved into their house. My family is obsessed with the Chicago Cubs and our family dog is Wrigley . . . Feld! Yep, we're just a little nutty. My parents met in college and have been together forever. My uncle is a retired high-risk obstetrician and piqued my interest in healthcare as a young girl. My parents are retired snowbirds in Arizona. My younger brother still lives in Chicago and would never leave because he is a diehard Chicago sports fan. He briefly considered moving, but ultimately couldn't imagine living in another city "when" (not if) the Cubs won the World Series, so he is a Chicagoan for life.
What did your dad teach you and does he have a favorite motto that you've absorbed into your life?
Whenever I would get upset or take anything too seriously, my dad would always say, "Don't sweat the small stuff, and it's all small stuff." Too often we obsess about the details or get worked up about something trivial. In healthcare, perspective is important. If we all worried about the details, we wouldn't be able to focus on the bigger picture. My dad also passed his love of baseball onto my brother and me, and so many sports-related philosophies that are relevant to real life. I take on the ideals of a team—that we cannot do anything alone.
Who knows you best and do you "read" each other?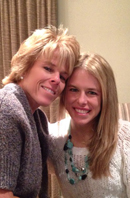 My mom knows me best! We are really close because not only do we look exactly alike, but she also "gets" me and where I am coming from in almost every situation. I swear she can actually read my mind.
How would you describe your personality? What energizes you?
I am definitely an extrovert but I wasn't always this way. I was a pretty shy child, the only girl among a bunch of boys—my brother and cousins—who were rambunctious and wild. In high school and college, I adopted more of my mom's personality. I love people, love being surrounded by people, and am outgoing. I love doing good and that could be anything: working in quality improvement in healthcare because it's for the greater good, or in everyday life, it could mean something as simple as picking up garbage on the ground because it's an eyesore and it's just the right thing to do.
What or where is your sacred sanctuary, a physical or emotional place that no one may access?
I love the mountains and exploring! It's exhilarating and calming at the same time, being in nature that is so relaxing and something I like doing either by myself or with close friends. Getting away from the noise of the city. I love Jackson Hole, Wyoming, where my family has gone several times and it's the last few towns not too commercialized—it's just about the mountain and its habitat.
How important is playing sports?
I am a big runner and love to be outdoors. I played softball and tennis and ice-skated as a kid and still love them. I also love watching sports! I watch football and baseball, as well as hockey. My favorite teams are, of course, the Chicago Cubs, and the Chicago Blackhawks hockey team. I went to the University of Michigan so, for football, it's the Wolverines. This year was the first year I participated in fantasy baseball … and I beat out 16 people to win the whole league. Yes, I am bragging! My claim to fame!
If you had one day to make one totally outrageous dream come true, what would it be?

It always used to be that the Cubs would win the World Series, but now they have. I guess I need a new outrageous dream! But for me personally, it would probably be to travel to some super cool, exotic, tropical location and very far, like Fiji or Bora Bora. Or maybe getting invited to hang out with the Cubs players at Wrigley Field!
What unorthodox interests do you have that might surprise people?
I really got into coloring books. They are fun, relaxing, therapeutic, and meditative.
Have you a quirk that drives even you crazy?
I am very superstitious. I wore all of my grandma's good luck charms during baseball season (it worked!). I also have to have the same type of coffee in my favorite mug every day. But I am not OCD.
When words fail to express, how do you communicate?
As a culture, I think people often have trouble communicating because they don't listen. I try to be patient, to pause and reflect before I speak. But I really enjoy listening to different people with different ideas from various backgrounds. When words fail to express, often listening can be one of the most useful communication tools.
Are resolutions valuable and, if so, what are yours for the New Year?
I think so. My resolutions for the New Year are to enjoy the moment, to be in the present, and to continue trying everything in San Francisco that I can. Every weekend, I've tried to do at least one new thing: I've gone to the symphony, I've hiked new trails, and I have a huge list of to-dos that include exploring Chinatown, Muir Woods, Napa. Instead of worrying about the past or planning the future, my resolution is to enjoy the present.
Thank you, Jennifer, and Happy 2017!
- by Oralia Schatzman
View Jennifer's professional bio | See previous faculty interviews