Interview with John Dzundza
A Conversation with John Dzundza, Assistant Clinical Professor 
Tarzana, California, has brought us Iggy Azalea, Selena Gomez, John Lovitz, and now John Dzundza. Can you share a favorite memory about your hometown?
Iggy Azalea is from Australia although she may live in Tarzana now. This is my pet peeve about Tarzana: technically it is within the City of Los Angeles and the San Fernando Valley in general, but no one knows that or they may have preconceived notions about it because it is sometimes associated with a certain type of film production. I grew up there because my dad was in the entertainment industry. He is an actor who has done both film and television work (https://en.wikipedia.org/wiki/George_Dzundza). He has since retired and my parents moved to Oregon.
Are you still a Southern California guy, or have you found your heart in San Francisco?
I am totally NorCal now. My husband is a neuropathology fellow here at UCSF and our families have all relocated to the Bay Area since our marriage a year ago. His parents and his brother's family live in Oakland and both my brother and sister live in San Jose. So this is our home base now.
Dzundza is an unusual surname. Where did the name originate and what do you know of its history?
My dad was born in Rosenheim, Germany, of a Ukrainian father and a Polish mother. He emigrated when he was five from a camp to New York, with basically nothing, and lived in a small Ukrainian community. He probably came through Ellis Island but I don't really know anything about the name itself. I do spend a lot of time spelling it on service—it is definitely a conversation piece.
Was yours a direct or circuitous route to the DHM?
I always knew that I would be a doctor. Ever since being a kid watching medical shows on TV. It was a way that my intellect and interest in science could segue into a career that was stable and generous, giving of yourself and helping others. Medicine was always where I knew I wanted to be, although it is different than I expected. Whenever people embark on a journey toward medicine, it seems noble and lucrative and glossy. In reality, much of the hardest situations are anything but glossy when you're in the trenches with people who have fallen out of the system, who cannot make it without the help of a hospital irrespective of their medical conditions. It's a calling to deal with people and be their doctor, it takes a lot of responsibility and a tactful hand, and I think it is an interesting profession. I am here 12 hours a day, time flies by and there are a lot of sacrifices but it is intellectually stimulating, rewarding, and I am never bored.
Are you ruled by your left brain or your right? What ability would you like that you do not possess?
I do have a creative side. I grew up always being in the chorus in our Catholic church, was in an a cappella group and did theater in college as part of the Mask and Bauble Dramatic Society. Most recently, I am in the San Francisco Gay Men's Chorus and it is super fun and a blast to feel the adrenaline of singing with a huge group of guys in some great venues like Davies Symphony Hall. I try to find a happy balance, to read academic articles and fiction—in fact I just finished The Goldfinch by Donna Tartt but I also like occasionally watching "The Real Housewives of New York City." An ability I wish I had maybe just a little less of is being a people-pleaser; at times I wish I had the chutzpa to say what I want, stick to my own agenda, and not care so much about what anyone else might think.
Who have you not seen in a long time but know that, should you come together, it would be as if time had not passed?
My piano teacher from when I was a kid. I studied for around eight years, mostly because my parents wanted me to play piano, but we had a complicated relationship because I frequently showed up without having rehearsed. She had a way of gently guiding me to be better and was very real with me. I haven't thought about her for years but I think it would be a blast to learn what's happened in her two decades of teaching and maybe showing her that, even though I may not have been her most dedicated student, things turned out pretty well.
Have you taken any time this summer for vacation or serious fun?
In April, we went to Japan during cherry blossom time. Tokyo was amazing, experiencing the vast subway and commuter system, beautiful public gardens, all the lights downtown in Akihabara and Ginza—it was magical. Kyoto was much more subdued with its many temples. That was really cool culturally, eating things we'd never eaten, interacting with a culture so different from your own, where you cannot even read the writing on street signs, let alone speak it. We enjoyed a little more luxury in August when we went to Kauai for my cousin's wedding; the bride had lived on Kauai for many years and her family was very integrated into the indigenous community. For example, their wedding officiate spoke mostly in Hawaiian and blew a conch shell to start the ceremony. It was nice to experience an authentic side of the island with locals and feel less like a tourist. It was also a big family reunion for my mother's side of the family, who are a big group of Dutch drinkers, so it's always a party when they get together.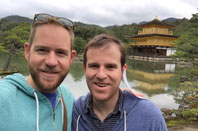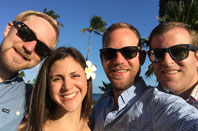 What kind of situation makes you stubbornly dig in?
In trying to think outside the realm of the hospital, the first thing that comes to mind is with my husband! I think it's when I think someone else is being stubborn for no reason and I can't understand the logic behind their thought process, I can get stubborn in response.
Which literary character do you occasionally conjure in moments of unguarded whimsy?
I could say Harry Potter but more likely it would be Quentin from The Magicians, a trilogy by Lev Grossman. I think it would be really cool if magic really existed and have always been a fan of fantasy science fiction. In moments of whimsy, that's where my head goes, "oh, what if I could …"
About what do family and friends mercilessly tease you?
I get teased a lot for dressing as if I were a preppie from the East Coast and am often told that I belong in the Marina. To which I say, "If you look good, I don't think there's a problem." I do love to shop at J.Crew, although it can feel a bit awkward stepping over homeless people's dogs in the Haight wearing boat shoes. I've taken a fair amount of ribbing from friends here about the way I dress.
Thank you, John, this was delightful.
- by Oralia Schatzman
View John's professional bio | See previous interviews