Interview with Kristen Kipps, MD
A Conversation with Kristen Kipps, Assistant Clinical Professor
Are you a quintessential "California girl"? And how so?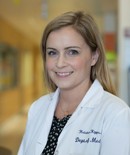 My grandparents were born and raised in and around San Francisco, so I have strong roots here. My parents relocated to San Diego when I was young, but much of my extended family is from Northern California. I even have pictures of my great-grandmother that were taken a few months before the 1906 earthquake. Returning to San Francisco was like coming home, it was so familiar—I went to school in Berkeley but never actually lived in San Francisco.
Tell me about your family. What do you know of your ancestry?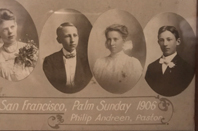 Kipps is my birth name and is an old British name. I don't know the details of either family history other than my father's family is from England and Poland and my mother's family is from Scandinavia and Great Britain. My husband immigrated from Croatia and he has much stronger ties to his family history and heritage than I do. I come from a medical family. My dad is a physician and my mom is a dietician, one of my sisters is studying nutrition and my other sister is a teacher. I have aunts, uncles, and cousins who are also physicians. I grew up within a medical culture, as medicine was always a topic of conversation in our home. Health care was a natural transition for me.
How do you feel about the time change? Did it impact you in any particular way?
I like it because it signals a change in the seasons, although I don't like that it gets dark so early. It definitely feels like winter already.
Who besides your parents had, or still has, the biggest impact on you?
I've been lucky to have mentors all along the way, in medical school, during residency and in my most recent job. A good mentor shows interest in you, helps you figure out how you want to grow, and guides you toward achieving your goals. One of the things that's great about our role as clinician–educators is that we get to do the same for next generations of residents, hopefully to inspire them as we were. I can remember how it felt to be in that role, but now something that I notice when facilitating group discussion is that often female students will stay after and ask questions about work–life balance and managing a family, and it's nice to be considered a role model.
When you don't have to wear a white coat, what is your go-to clothing?
I am pregnant and the mother of two-year-old daughter, so comfortable clothes are my go-to. We're expecting a boy, but my daughter is insistent that it will be a girl.
Are you an athlete, artist, musician, or cook? What activities keep you grounded?
I like to stay active and I really like to run, but I am not an athlete. San Francisco is such a beautiful city to run and there are so many places, like Crissy Field, the Palace of Fine Arts, or Golden Gate Park, that have great running trails. I am not a very good cook but my husband is. It's big part of his culture, so he cooks a variety of traditional Eastern European dishes. He makes one particular dish, called "pašticada,: which is beef dish stuffed with cloves, pancetta, and stewed for a long time and served with gnocchi—it's really good!
Describe where or when you would not mind if time stood still?
It may be cliché, but I would say the day that my daughter was born. It was this perfect surge of love and emotion and was such a great thing, such a positive experience. If I could go back to that day, I would.
Is there a granny-type of behavior or habit that you'd own up to?
I sew. My mom grew up in a small town and sewed all her own clothes because there were no stores nearby and she thought it was important that we learn, too. I sew quilts, clothes for my kids and Halloween costumes. It's a good skill to have, to be able to sew or fix your own clothes so, yes, that's my granny activity.
What have you read lately that you enjoyed and would highly recommend?
I've been reading a lot lately because I got a new app on my phone, called "Libby." It's a free app that's probably not very well known. It allows you to download any book from the library straight to your phone instead of buying a Kindle. I have a huge reading list and am catching up on books that I never read in school, like 1984. Another recent book I read is Miss Ex-Yugoslavia, which was an interesting way of learning more about the history of that part of the world.
What was something nice that happened recently about which you are still smiling?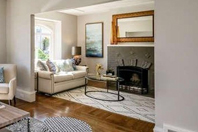 We recently bought a house in the Sunset and are renovating it, and that's exciting. It's stressful but happy, even having equipment and drywall delivered. My favorite room in the house, which was built in the 1920s, is the living room with its fireplace. It's very old and cool. 
- by Oralia Schatzman
View Kristen's professional bio | Go back to interviews