Interview with Landon Haller
A Conversation with Landon Haller, Clinical Research Coordinator
It's been a few months since you started in DHM. Can you tell us more about yourself?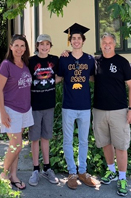 My immediate family includes my mom, my dad, Luke (my little brother), and myself. We are an adventurous quartet who love the outdoors, hiking, and winter sports — which is ironic given that we're from Southern California where it can get up to 110°F in the summer! Specifically, I grew up in Chino Hills, CA, and then moved to La Verne, CA, when I was 18. The entirety of Southern California feels like home to me because I went to high school in Los Angeles and played hockey in Orange County.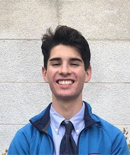 What is your earliest memory with your family and friends that stuck out?
One of my first memories was when I was about 3 or 4 years old and would go to my grandparents' house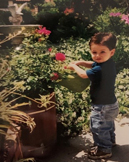 while my parents would work full-time. They had a plot of land where they would raise chickens and rabbits. I always enjoyed helping my grandfather get eggs from the chickens and trying to sneak rabbits inside the house so I could play Legos with them! I think this memory sticks out to me because my grandparents have always been so welcoming and loving while also being a huge inspiration to me…also I really love animals!
Among your friends and family, what is something you're most famous for?
Definitely the horrendous Justin Bieber style haircut I used to have from ages 10–13. I won't speak more on it, as I'm sure you can already picture it. I'd also say my competitive spirit. I once got into an argument during a game of Monopoly with some family and friends because I was trying to make business alliances with other players.
What originally got you interested in a role in clinical research?
During my undergraduate years, I volunteered my time with the Patient Support Corps at UCSF. Our main goal was both to help patients understand the information presented to them during their doctor's appointments as well as track the efficiency and helpfulness of a Patient Advocacy program at UCSF. The fulfilling experiences I had both helping patients and learning the nuts and bolts of a clinical study is what prompted me to begin looking for work in clinical research. Knowing what I know now, the advice I'd give to my younger self is to trust in yourself, realize that you are meant to be where you are, and never lose hope.
Do you enjoy overcoming challenges, or do you prefer things to be easy?
I definitely prefer to overcome challenges. I think the more difficult something is, the more likely that you will learn a lesson that will stick with you for life. Even if you fail or can't accomplish what you wanted, there's always something to learn from times when life is more difficult or when there's a daunting assignment dropped on your desk. Also, overcoming and succeeding at harder things helps me realize that I am capable of taking on larger challenges, down the line.
What field would you be interested in if you don't need to worry about anything?
That's a tough one. Health care is where my passion is and where my ultimate future goals lie, and I really can't say that I would be happier in another field. Something I've always thought was cool is finance/investment banking, but there's no way I could bring myself to deal with only numbers, money, and stock charts all day. I'd have to say that I would become a veterinarian for large wild animals that are endangered. I love animals, nature, fixing things, and connecting with the beings I help. Maybe that's too close to health care, but that's my answer and I'm sticking to it!
What country or place would you visit over and over again?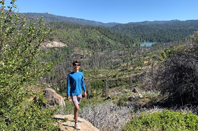 Yosemite and Yellowstone National Parks. I've been to Yosemite several times, and every time truly feels like the first time because the beauty of it is never something you can fully capture. I've been to Yellowstone once and was completely awestruck by the sheer power that our Earth has. Yellowstone also has bison, wolves, and moose, which I think are objectively cool animals.
What would be the most amazing adventure to go on?
A camping or backpacking trip in the Andes Mountains of Peru. I'll catch myself looking at pictures on Google or Instagram of the views off the peaks. I'd want to go with my girlfriend, family, and my best friends, because the majority of what makes an adventure amazing are the people you're with.
- by Lena Loo
View Landon's professional bio | Go back to interviews