Interview with Priyanka Agarwal
A Conversation with Priyanka Agarwal, Assistant Clinical Professor
Your name, from what I could find, means "symbol of love" or "beloved." Is that your understanding and does either meaning give you pleasure?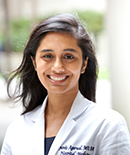 My grandmother in India named me and it does mean someone "dear to you" or "beloved." It isn't very common here but was popular in my grandmother's era because one of the children from the Gandhi family was named Priyanka.
Do you have a family nickname that you like or one that makes you?
Yes, and I am not going to tell it to you! It is traditional in India that people have formal name as well as other "home" names. In older times, documentation wasn't always that official so home names sometimes changed many times for various reasons. Neither my formal name or home name has changed, but home names are essentially terms of endearment.
Where were you born and raised? Would you please tell me about your family?
I was born in a small town in India (Hardoi, in the state of Uttar Pradesh). We moved to the United States when I was very young. I grew up in Los Angeles, Connecticut, and the majority of the time in the Dallas area. I have one younger sister who is 5 years younger and my parents now live in the Washington, DC area. Much of my extended family still lives in India. My father does biomedical research so that drove where we lived and it was great living in all types of places because I became adept at adapting to new environments. I went to college in California and med school in Boston, and then I worked in India for a time, so being used to different places has been helpful. I speak Hindi fluently, and my Spanish is passable.
How do you like to celebrate special occasions like birthdays or anniversaries? Do you like to go all out or enjoy them quietly?
It depends. I love spending time with friends and family. I am a social person who needs people around me. It's also nice to do smaller things as well. I enjoy hosting and cooking and having people over. We take turns hosting events but it's also nice to mix it up, go out and explore restaurants and things to do in San Francisco. We just celebrated Diwali and had several people for dinner, and lighted candles for the new year, one of the traditions associated with the holiday.
Did you have a traditional wedding? What special touches did you insist upon to make it uniquely yours?
I did have a traditional Indian wedding—it's important to my husband and me to keep our ties to our culture—which was large and quite fun, with several days of celebration and fun. Our special touches were really more about the people who were there from all over the country and across the world. We incorporated nature and had an outdoor ceremony, which is more difficult than it sounds since we had almost 400 guests, not atypical for an Indian wedding.
Can you share an important event, personal or global, that impacted you on a deep level?
My parents immigrated here from India at a time when the world was not as small as it is today, and that has really instilled in me a sense of adventure, seeking out new things and wanting to push myself in terms of what I am willing to try to do. I think the qualities they showed are what I value, what I am willing to do or not do, which drive my decision-making. It's wonderful to be open to change and pushing yourself. My husband has it too, in terms of an entrepreneurial attitude in the tech industry, in which he works, and in life.
What trait(s) did you inherit, from either parent that you sometimes manifest without thinking?
I think we have a lot of similarities with our parents but I take inspiration from my mother who is very enterprising. She isn't someone who sits still. She is thorough and complete and doesn't take shortcuts. In her work and around the home, she does everything completely and I try to take after her. It isn't a speed issue, it's more about the process.
If you had absolutely no work commitments and an entire weekday to do something that you wouldn't normally, what would you do?
I enjoy taking classes and learning new things, and San Francisco has a great preponderance of activities and things to do. I enjoy gardening and have always wanted to learn how to do more around buildings, so maybe something like working with Habitat for Humanity.
Who is the better cook in your family and what favorite food do you never tire of either cooking or eating?
I am definitely more of a cook and love going to farmers' markets for great ingredients. I live very close to Bi-Rite, so I am spoiled. The one thing that I recently have not tired of cooking is Delfina's spaghetti, whose spaghetti I think is best in the city and I pretty much refuse to eat spaghetti from anywhere else. The spaghetti I make at home is just about as good, and the recipe is available in the Bi-Rite cookbook. It's a very simple recipe. There are only about five ingredients, but what makes it so special are the San Marzano tomatoes from Italy and the other is getting good fresh spaghetti. I also cook Indian food, and lentils are my usual tasty, healthy dish.
Which three adjectives best describe you?
This is tough because I don't usually like talking about myself. I am maybe a combination of things that are more than three words: a bit of an open-thinker or dreamer, something between stubborn and focused, and I do like to joke around a bit and still be serious.
When did you last see a sunset that took your breath away? Where was it?
This summer we took a road trip up the coast to Vancouver, British Columbia. We did a kayaking trip in the bay and saw an amazing sunset from our kayak. We love being outdoors and do a lot of hiking and go camping occasionally. A year or 2 ago, we backpacked to Sykes Hot Springs in Big Sur, a 2-day trip that was beautiful.
How do you measure the success of any given day? At its end, what gives you the most satisfaction?
It depends on the type of day. When I am on service, it's definitely connecting with patients, families, or helping housestaff. If it's a personal day, it would be being with people and doing lots of different new things.
Thank you, Priyanka.
- by Oralia Schatzman
View Priyanka's professional bio | See previous interviews