Interview with Rebecca Nessel
A Conversation with Rebecca Nessel, Associate Clinical Professor
Where were you born? Have you an extended family and remain connected?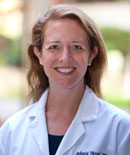 I was born in Detroit, Michigan, and moved to Cleveland, Ohio, when I was 3 years old. I am very close with my family. My dad and stepmom are in Michigan and my mom and stepdad are in Cleveland. I am the youngest of three sisters and we are very, very close. We see each other frequently although we are physically far apart, in New York, Florida, Cleveland and San Francisco. All of us prioritize spending time together. My mom and sisters and I all do group texts daily and we talk to each other, too. My family is one of the most important relationships of my life and my kids are getting that, because they are close with their cousins.
You were a resident here at UCSF, yes? Did you, at that time, have a role model that inspired you to become a hospitalist?
Elizabeth Murphy was and is like a sister to me. We started at the same time and she definitely was and is an inspiration to me. I loved the group I worked with here at Mt. Zion: Stephanie Rennke, Meredith Heller, Sumana Kesh, and Elizabeth, we were like Little Women and had a nice camaraderie. I think that's the best part of working at Mt. Zion, the people we work with.
What was the best thing about living in Texas for a time, after UCSF? And was there a more difficult adjustment?
The best thing about Dallas, where we lived, was the sense of community, particularly at my children's school and the Jewish community, which was a nice group of welcoming people. There were always events, potlucks, and parties outdoors with music, and it was a beautiful way for kids to grow up. I also liked Texas because it was similar to how I grew up in Cleveland: it was comfortable and things were easier. There is more space and it is cheaper! What took a lot of adjustment, like maybe two summers, was the heat! 105 degrees is brutal and there is infestation after infestation by every type of bug, huge cockroaches and the mosquitoes eat you alive after dark.
Do you have a favorite piece of jewelry and is there a story behind it?
It is this real diamond ring that I am wearing and it has a great story. A friend, visiting us at the rental home where we lived 6 months before we moved to Dallas, was wearing an inexpensive ring that I admired. She later sent it to me and, in a busy moment, I put it in a kitchen drawer and forgot about it. About 2–3 months went by and I opened the drawer and found a different ring than the one my friend had sent. I emailed everyone who had ever visited us and no one claimed it and the management company had no record of previous tenants filing a loss claim. Elizabeth Murphy went with me to a jewelry store and the owner told me that this was my lucky day; it is a 1.7 carat diamond in a solid platinum setting. Whoever this ring may once have belonged to is long gone so I kept it and it suits me much better than my original engagement ring. So, the great story is that I found a real diamond ring in my house!
Do you feel that you live a "California Dream?" Was it a happy accident or was a certain amount of determination involved?
I am living a life that I am incredibly blessed to have and which I am grateful for every day. I have a very wonderful life because I am privileged to be surrounded by people I love, get to do something that I love to do, and be so involved in raising my children, who are my greatest joy. I have an amazing husband who is a force of nature. Did we choose this life? We would choose it, a hundred, thousand times over, because we want what we have, not necessarily have what we want. We are so lucky and we make it a priority to give back and to try to make the world a better place for our kids.
Is faith for you a code, an outlook or a behavior?
For me, it's more a cultural identity. What I actually seek out is a just community, a sense of belonging, of having a group of people who are like-minded. This comes up over and over in my life and I do think that humans are social creatures not meant to live in isolation. Does it have to be the Jewish faith? No, but we want our kids to feel some sort of higher purpose and sense of moral compass. My husband finds it through meditation and generosity; he is always reading books about Peace Warriors to our kids, about people who make a difference, who have belief in self and what people can do.
Grandparents are younger now than "in the day." What do your parents do to remain young at heart?
My mom, who is here now, chases after the kids and she is silly and she is very young at heart. I am always telling her to stop teaching bad things to the kids! She and my stepdad play bridge and travel. They say that the key to happiness is having something to do, someone to love and something to believe in. If you don't have something to do, I think that that is a recipe for disaster.
Today is, I imagine, a typical busy day at Mt. Zion. When this service ends and you return to Parnassus, what might you miss most?
I will miss being in a quiet environment away from the hustle and bustle. It is quiet here, and more peaceful. I will miss being unit-based where everyone is all on one floor and getting to work closely with nurses, therapists, and dieticians. Everyone knows where to find us, and we can find them. Here, it's fluid and I think our patients get great care because we are physically here.
What advice might your husband, who I believe is a yoga instructor, send me away with to carpe diem?
He would tell you, "Right here and right now is all we have." You can talk about the past, worry about the future, what has happened or not happened but the only thing that is real is this moment. I do that best when I am with my kids. My favorite quote is from Maya Angelou: "One of the ways to judge yourself as a parent is to ask yourself this question: do your eyes light up when your child walks into the room or, when they walk in, do you just keep going on with your day?" When my children walk into a room, my eyes light up and I am completely there and present with them. I try to also bring that to every encounter I have with my patients.
I feel so much better. Thank you, Rebecca.
- by Oralia Schatzman
View Rebecca's professional bio | See previous faculty interviews