Interview with Sachin Shah, MD, MPH
A Conversation with Sachin Shah, Assistant Clinical Professor
What does your name mean and in what language? Is there an aspect of your life that your name truly embodies?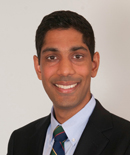 Sachin comes from the word, "sach," pronounced "such," which means truth or light in Sanskrit. It's reflective of my research career, but that may be more happenstance than anything.
Where were you born and raised? Tell me about your family, your parents and siblings. What kind of kid were you?
I grew up in a suburban township called Edison, in New Jersey. My folks came here in the 1970s from India. My father was in pharmaceutical sciences, and my mom is an entrepreneur who runs a travel agency. I have a younger brother who is a lawyer but now works in finance. I was a handful, always getting into (minor) trouble. I was a little mischievous and a tinkerer, doing things like getting into my dad's tools and building go-carts and ramps, racing our bikes down the hill, exploring.
Are you a structured person by nature or spontaneous?
Different periods of my life have been typified by both. I like to have a plan and like structure, but I also like to take risks and sometimes follow through on half-baked ideas. I was in medical school when I became politically active and left school to volunteer for Obama's presidential campaign in Ohio. I wasn't sure what I was getting into but, in the middle of my third-year clerkship, which is a very structured time, I asked for time off. I flew to Cleveland, Ohio, and stayed for several months. Working on Obama's campaign was a pivotal and formative experience that came about rather haphazardly.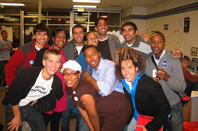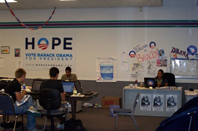 What has been the biggest cultural change since relocating? What is your favorite only-in-San Francisco thing? 
It's only been six weeks, so it is hard to fully disentangle what is San Francisco, what is DHM, and what is this new role that I am now in. But I can say all three together have been exciting. I like that the culture is very collaborative and the people are genuinely passionate about what they do. Boba has become a new favorite of mine; it is on the East Coast, too, but here it is at whole other level. In the evenings, my wife and I often walk from Noe Valley to the Mission District for our boba fix.
From where, which sources, do you primarily get daily news? How often per day do you check breaking news?
NPR is my go-to news source every morning, and I read the New York Times. I try very hard, especially since November 2016, to not get caught up in every twist and turn of "reality" TV. So I limit how often I look at my phone or access news because it's crazy-making and it distracts me from what I am supposed to do. My attention is too fractured, and it's depressing. It's important for me to be civically engaged, but it shouldn't lead to paralysis; I try to be engaged in the larger context of my personal and professional life.
In what topic are you a master of trivia?
1990s alternative rock. I'm not proud of it, but it's the music I listened to as a teenager.
Is there another career that you might you have pursued had you not become a physician?
I would work in politics. I wouldn't want to be a politician per se, but I would like to work in policy. I don't think I'd ever run for office, that's not a role I am interested in, but I would like to be involved in government work that benefits real needs of people. I'm interested in the areas where private business has limitations. Despite my other interests, I love medicine—I'm grateful to do the work that I do, and for me, it's the greatest job.
Who is a mentor in medicine or in life that was most inspirational?
After working on the Obama campaign, I was not sure that I wanted to do academic medicine. After coming back to school met a professor at Yale, Dr. Harlan Krumholz, who showed me what it meant to be an academic research physician. There are many smart people in D.C. who are involved in shaping health policy, but what is missing, what Harlan brought to the conversation—and what I would like to bring—is the "on the ground" perspectives. Doctors and nurses are on the front lines and bring knowledge deeper than any politico or administrator could and those voices need to be brought to the fore. He approached this in a rigorous, patient-centered way, identifying shortcomings and crafting a research portfolio that he brought to the national forum. He continues to do great work and is still my role model as an example of having an impact as a physician and researcher.
What sport might you play competitively and hold your own?
I've become fascinated by cornhole, a kind of lawn game from the Midwest. You stand up about ten yards apart holding a board with a 6" hole in the middle and try to toss a small bag through the hole. The bag is filled with corn feed, hence the name.
When were you last absolutely certain that you were right about something, anything, until you were proved wrong?
That happens a lot! In training, we are encouraged to commit to a diagnosis, even if we do not have all of the information; it can be difficult, but it often leads to rich discussions and learning opportunities. From my personal life, I was certain I was going to take an academic job out East, but my prescient and never wrong wife encouraged me to look at San Francisco. Needless to say, she was right—I applied here quite late and quickly learned what a great fit it is.
Describe a domestic chore that you are very good at doing and one that you avoid at all costs.
I am very good at doing laundry and try to avoid it at all costs. I learned to read those little labels and understand the symbols after I ruined a few things. Still don't like doing it though.
How long have you been married? Can you recall a favorite memory from your wedding? An image, a sound, a smell?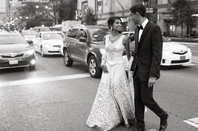 We were married three and a half years ago in Chicago, on a perfect summer day in July. I remember taking a little walk before the ceremony. It was a last little moment of intimacy, just the two of us, before a typical overwhelming three-hour ceremony, a whirlwind.
Thank you, Sachin.
- by Oralia Schatzman
View Sachin's professional bio | See previous faculty interviews