Interview with Sarah Apgar
A Conversation with Sarah Apgar, Assistant Clinical Professor
Where were you born and raised? Tell me a little about your family, please.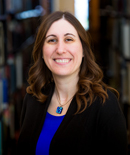 I was born on the East Coast in the suburbs of Philadelphia and lived in the same house my entire life. Both of my parents were computer programmers back in time when programming wasn't "a thing." They were math majors, and that was what math majors did then. My dad passed five years ago from melanoma and my mom still does tech support in a middle school. My brother is also a programmer so I am the oddball. I am the oldest but we are close, four years apart in age, just enough that we got along but were in different stages growing up. He lives here in the Bay Area and it's nice to be able to be near him. We are a close family, Italian on my mother's side, and Apgar is a German name.
What was your biggest luxury, something that you consider a real splurge?
I am not a big luxury person—I almost never splurge on things. I am a total saver and feel bad whenever I splurge on things that I don't need. My splurges are usually on travel and vacations. I just traveled to the West Coast of Mexico, just outside of Puerto Vallarta, with my family. It was a "big birthday" for my mom who wanted to celebrate by doing something fun. I love photography and was the photography editor for my college newspaper and used to develop film and print pictures, so equipment could be a splurge, too. I also love to scuba dive and I enjoy underwater photography and, for now, just have a point-and-shoot camera.  I feel that I have to learn so much before I invest in better equipment. I am torn because I also just want to enjoy the scuba diving, and sometimes focusing on taking the perfect picture takes away from that. By the way, my mom, my brother, and his wife, are all certified so it's a family thing.
Who is your mentor in medicine or in life?
Many of my mentors have been colleagues and friends who I am close with and admire, so a little bit of lot of people. I was lucky to have a really close-knit group of friends in high school with which I am still close. We all went in different directions and careers but we all had similar temperaments and personalities; we are all pretty easygoing. We still are like a family, and even when we don't talk for a long time, it is like no time has passed. We have similar core values in that we are not judgmental, are open to different life experiences, and are not easily offended, and we challenge each other's points of views. I trust their opinions and look to them in difficult decisions.
What was your biggest adjustment to living in San Francisco? 
How much everything costs. I went to medical school in New York City so I knew what it was like to live in an expensive place, but housing here is ridiculous. But I had traveled here frequently to visit my brother and friends, so it wasn't completely foreign to me. What was surprising to me was that it didn't feel more foreign actually.
Describe your least favorite housekeeping chore. What excuses do you devise to avoid it?
I hate all housecleaning and pretty much do anything possible to avoid it! I have been feeling that I am finally at a point where I am ready to hire a cleaning service and even my mom is encouraging me to just do it.
Are you a good cook? What is an occasion to serve something really special and what is it?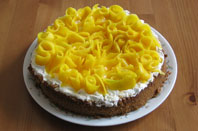 Yes, I am a good cook! Well, I don't know if I am a good cook but I like to cook. I like to joke that cooking had always been my backup plan if I didn't get into Medicine. My favorite things are baking and bread-based, like homemade bread and pizza dough, and fancy desserts. I made a key lime cheesecake with mango topping not long ago that was pretty good. I get cooking magazines and will find ideas that I experiment with. I like to go out to eat, but in the end prefer to have people come over and either cook for them or have them hang out in the kitchen.
If you had one outrageous wish that could be fulfilled in the next few moments, what would it be?
It would be that I could just travel anywhere at the drop of a hat, to teleport myself to wherever I wanted at that moment. So many places that I'd want to go! It would be a toss-up between somewhere I've never been, most of them tropical, and one of my favorite places: Hawaii. It's my happy place. I've been to all of the main islands but I am partial to the Big Island, my favorite place to go scuba diving. Divers can be in two categories: people who like to see shipwrecks and people who like what lives underwater like fish. I like fun things like eels and manta rays, and I'm not afraid. In Mozambique, I got to swim with whale sharks, which are really big whales, like 50–60 feet; they are huge, but they eat plant life so there is no danger.
Is there something that, because you are relatively new to the division, a new colleague might not know about you?
I am not super quiet, but I don't necessarily open up right away. Once I do, I am a friend forever.
Thank you, Sarah.
- by Oralia Schatzman
View Sarah's professional bio | See previous interviews