Interview with Steve Ludwin
A Conversation with Steven Ludwin, Associate Clinical Professor
Happy Hannukah, Steve! Are there favorite foods that conjure past family traditions?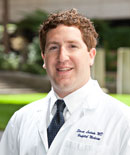 Not really. Hannukah is not a huge holiday but Thanksgiving is our big family holiday. It's a nice time to be with each other and have the classic meal. Most of my family is in the NY/NJ area so I will be missing them this year for the holidays.
If you were to meet yourself as a youngster, what would you tell yourself now? What words of advice would you have for your children?
I would probably say, "Day-to-day always try to do the right thing." Beyond that, when you're looking towards what you want to do, try to dig down deep and find something that you care about and are passionate about—always pursue that and you'll never go wrong. Trusting our own instincts is the most important thing we can do. When things are complicated, I often find that the way around difficult problems is simplifying things to a certain core and, once certain basic questions are answered, you find yourself closer to your solution. It can be that way in clinical medicine or in life, when one strips things down to the most important values.
As a recent transplant to the Bay Area, are you missing the East Coast? Have you discovered favorite new haunts or activities?
There are definitely times when I miss the East Coast, my family, and friends. I never thought that I would say this but I miss the New York City drivers! I am adapting to the California way of life but not yet on the roadway. I still drive with a New York mentality and hope that in the next few months I will rein that in a little bit. I'm really happy here on the West Coast. It is the middle of December, the weather is wonderful, and I played tennis yesterday and golf today. Here in the Bay Area, you have golf courses overlooking the ocean, with views of downtown. It's absolutely gorgeous to be outside and I meet all kinds of interesting people, from all walks of life.
Did you know that there is another Steve Ludwin who is known as "The Snake Man"? Has anyone ever contacted you about reptile parties? Do you even like reptiles?
I'm not a huge reptile fan. I've heard of the other Steve Ludwin and I'm hoping that, after a few more years here at UCSF, I'll make a name for myself so that maybe my name will come up before his on a Google search! Of course, I am joking—well partly joking at the very least.
Can you tell me about your BA Honors Thesis, Here to Stay: The Emergence of the Modern New Orleans Brass Band?
I lived in New Orleans for eight years while attending undergraduate and medical school at Tulane, and developed a real appreciation for a very unique Southern city, its food, music, and culture. The brass bands exemplified that community and were a vital part of it. The New Orleans Brass Band remains to this day instrumental in celebrating life and the lives of the people of New Orleans. Primarily sponsored by African American Social Aid and Pleasure Clubs, the bands provide lively street performances as they march through neighborhood streets over the course of hours on many weekend days throughout the year. These parades embrace life as a celebration, even as they march through parts of town at times destitute and downtrodden. In addition, brass bands, through their role in jazz funerals, can capture the loss of a loved one in a funeral dirge, and later breakout in a fast-paced jazz number that celebrates the life and good times of the person who passed on. Specifically, my thesis discussed the potential loss of the New Orleans Brass Band as a relevant piece to New Orleans culture in the mid and late 1960s and the factors that led to the music's eventual renaissance in the early 1980s and extending to a flourishing group today.
So is it fair to say that trad jazz is your favorite type or is there another genre to which you respond? Are you a musician yourself?
I'm not a musician but always wanted to be; it's on my long list to do. I like all kinds of music including bluegrass, soul, rock, and classic rock.
Where did your family originate? Has anyone ever said that you resemble one of your grandparents in looks or personality? Do you have a favorite old photo?
My great grandparents were from Germany, Russia, and Eastern Europe. I don't think that I physically resemble any of them in looks specifically but in some ways, my personality can be similar to my late grandfather. We both think of ourselves as tough guys but, at the end of the day, are probably pretty sensitive to other people and their needs. Family was really important to my grandfather, and it is to me too.
What adventure might you attempt if you absolutely knew that failure was not an option?
Space travel. That would be cool! I was always interested in different things but space is this wild unknown. What an amazing adventure!
Who are your best friends and what makes them so?
My closest friends are people that I've shared common experiences with, like college, med school, and residency. They are typically pretty laid-back and funny, like to have a good time, and are honest and loyal.
With the onset of relatively cold weather, are you envisioning a warm-weather vacation soon? If cost were no object, where would you spend your ultimate fantasy getaway?
Hawaii was awesome and I'd love to go back. Australia and New Zealand would be fantastic and maybe an African safari. But I have to say, 50s isn't too cold yet for a person from the northeast!
How do you chill out at the end of a long week? Describe your ideal "so much better!" ritual.
A nice glass of wine, maybe a steak with that too! If you'd asked me six months ago about my favorite wine, I would have said white wine but, living here in the Wine Country, my taste is still evolving. I will have a better answer for you after another trip or two up there!
Steve, it's been a pleasure. Thank you and Happy New Year.
- by Oralia Schatzman
View Steve's professional bio | See previous faculty interviews