Interview with Xon Ng, MD
A Conversation with Xon Ng, Associate Clinical Professor 
Firstly, what is the origin of your name and how is it pronounced?
I go by my middle name (Xon), which is pronounced like "John" but with a Z, (Zohn). It is an Anglicized Chinese name.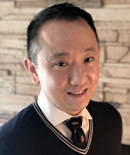 Where were you born and raised? Tell me about your family—your parents and siblings.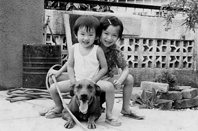 I was born and raised in Kuala Lumpur, Malaysia, where my parents and older brother still live. Being the youngest sibling, I was rebellious and got away with a lot. My older brother was not so lucky. I had definite ideas about my life and decided that when I turned 18, I was going to move to the United States and live in New York City. I could not stay in Malaysia because it wasn't a healthy, creative, and stimulating environment. My dad worked for the government grading timber but was forced into early retirement because of deforestation limits. My mom is a very artistic person who studied fashion. She couldn't pursue her passion because Malaysian/Chinese culture dictates that the eldest daughter must help support and care for her younger siblings.
Where did you go to school in Kuala Lumpur and what were your fellow students like?
I attended a Jesuit Catholic school, which was like being in Hogwarts without the magic. The institution was culturally diverse with Malays, Chinese, Indians, and the occasional foreigner. A rigid, British educational curriculum stifled my diverse interests. That said, I worked hard realizing that excelling at education would be my ticket out of Malaysia. I came out at age 17 and left home a year later to study in the United States. Instead of studying fashion at Parsons or drama at the Juilliard School of Performing Arts in New York City, I moved to Boston where I graduated in electrical engineering and then went to medical school. Go figure!
What was it like in those early years?
I finished residency in 2002, right after 9/11. That was a tough time because of what happened in the U.S. and also challenging because I didn't have my green card. Then, something amazing happened during my senior year of residency, I actually won the green card lottery. It is something that most people dream of and think is a myth, but I'm here to say that it is not! At the time it was called the Diversity Visa Lottery Program, where the U.S. government gives 55,000 lottery tickets to people from various continents and selects around half to receive a green card. With my residency status confirmed, I was now able to follow my dream and moved to New York City where I lived for 6 incredible years. I first lived in a very small walk-up apartment in the Upper East Side. Onward and upward, my second home was a beautiful brownstone at the Upper West Side at 76th and Amsterdam. New York was everything I dreamt it would be and so much more. It continues to be one of my favorite cities, not only because of its extraordinary mix of cultures, opportunities, and diversity but because it is where I met my Australian husband, Paul.
An article in today's New York Times ​​speaks to listening to patients being critical to a doctor's education. How does one go about teaching how to break a bad prognosis?
Bad news is something no one wants to give, especially if you are a physician. It is even more challenging when teaching junior medical staff. How do you inform someone that our current medical knowledge cannot save them? It is something that every physician regrets but must convey to patients and their family with empathy, and humility. I always talk to my team of students about how comfortable they feel before entering a patient's room to deliver bad news. It is not easy. If I sense that a trainee is not ready to deliver and empathize with a patient's diagnosis, I give them the opportunity to observe myself or a senior resident on how to interact and convey such information.
You've earned numerous awards for teaching and clinical care. Tell me what you love about teaching.
I enjoy being a teacher because I get to make complex and demanding patient care engaging. The outcome is that students become knowledgeable, confident, and compassionate caregivers. 
I'm inspired by my colleagues and medical advances. This said, I still have passion for color and fashion. Maybe one day, I'll redesign scrubs and win Project Runway.
I try to find humor in every scenario. Once I was mistaken by a patient for a pharmacist. I replied that his co-pay for Viagra would be $500. We both had a big laugh.
Yes, eating is the national sport of Malaysia. I am an exceptional Blue Apron chef.
Today is a beautiful, sunny day and you're off service. How will you enjoy your afternoon?
My husband and I, along with Gatsby (our dog), will walk to Hayes Valley for Blue Bottle coffee and a wonderful brunch.
- by Oralia Schatzman
View Xon's professional bio | Go back to interviews