Interview with Yumiko Abe-Jones
A Conversation with Yumiko Abe-Jones, Computational & Data Science Specialist
Where were you born and raised? Tell me about your family, please.
I was born at Kaiser, here in San Francisco, and raised in the Sunset. I went through the public school system and went to Cal. My parents divorced when I was young, and my grandmother and aunt would come from Tokyo for months at a time to help take care of me. Because they did not speak English, I learned to speak Japanese, and despite being born here, my parents felt that Japanese should be my first language. As a result, when I went to Japan, I was able to communicate.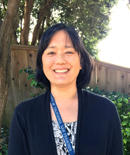 Is there anything that has been a surprising discovery since you've arrived at UCSF and the DHM?
The biggest cultural difference from my previous workplace is the sense of informality in addressing physicians. Nonmedical personnel, even the nurse executives addressed physicians as "Doctor." Coming to UCSF and addressing faculty by first names was surprising, but very nice.
Are you a morning person or nocturnal? Do you have a special weekend ritual?
I am really a nocturnal person masquerading badly as a morning person. On weekends, we are usually up reasonably early but hang out watching cooking shows like Jacques Pépin. I usually make dinners but my husband is a really good baker, and he makes dinner rolls and all kinds of good things.
Can you recollect and share any childhood memories of Japan?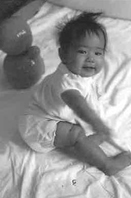 I visited Japan several times as a child and spent an entire summer, when I was eleven, with my grandmother in her apartment. I was allowed to attend the public school for just 3–4 days, and that was a trip because I was bigger than the kids around me and felt so alien (even though I spoke enough Japanese to get by, and I could read and write thanks to all the Japanese comic books my grandmother and aunt had provided me with over the years). School itself was very different, but cool. Everybody takes music and has to sing and read music, which I survived because I studied piano and flute. At lunch, a couple of kids would go to the cafeteria to get lunch for everyone, teachers and students, to share and eat together. During art studies, we used little woodcarving knives to make woodblocks, something you'd never see here! We also had etiquette lessons, like how to set a table, and at day's end, we all had to clean the classroom. Another thing that stuck with me was that, at that time, there were no supermarkets, at least in my grandmother's neighborhood. My grandmother would send me to specific shops where I would get soy sauce, soybean paste, even sake. We would take our basket or empty bottles to be refilled instead of buying new containers each time (it's not like that anymore, though). I think what is fascinating about Japan is that it is both traditional and modern; I've heard it described as being totally modern and yet not Western.
Have you any special musical interests?
I've wanted to play guitar ever since the best teacher I ever had, in third grade, would play music for us occasionally. It was the first time that I felt that I was learning more American culture because she would teach us Simon and Garfunkel and John Denver songs. I played flute really badly starting in fourth grade, but due to my arm length, my band teacher switched me over to trombone in seventh grade, which led to my playing a lot of jazz. When you're in a middle school jazz band, you're playing really lame Glenn Miller and the lower brass parts are much more fun to play than symphonic band parts. I was in the marching band in college, then after college I played with a salsa band for a couple of years, then finally in a community big band for senior citizens. It was people 55–80 years old along with a few of us who were much younger, having fun playing music together. Although I'm not too picky about the music I listen to, jazz is still the music that helps me focus, especially at work.
Who do you admire, either in your professional work or in life? Who inspires you?
Off the top of my head I'd say that my third grade teacher, Miss Vida, had a life-changing effect on me. I'd been raised in a sheltered yet somewhat of a challenging family environment, but through books and authors (Laura Ingalls Wilder and Jean Craighead George were my favorites!), music, baking cookies (she made us learn our fractions by multiplying the recipes), and field trips and nature walks, she introduced me to American culture in a holistic way and helped me to see that there was a bigger world out there. I really appreciate and admire her, and teachers like her.
Are you a history buff? If so, what type or era? And why?
I am not a buff but do enjoy randomly encountering and learning about history. My husband reads a lot about World War II and I tend to research bits that interest me. As a child, I was provided with a lot of books about a few key periods in Japanese history.
What amazing destination is on your wish list?
My husband and I have enjoyed road tripping around the United States but are hoping to go to Africa, either Botswana or Namibia, in a few years. I've been interested in Botswana ever since seeing the 1980 movie, The Gods Must Be Crazy, which I saw several times in high school but I also love The No. 1 Ladies' Detective Agency book series. I've also been interested in the Silk Road but admit that reasonably clean toilets are an issue so I mentally go back and forth about it.
Can you respond to the ongoing controversy about cat people vs. dog people? Where do you stand?
I've only had cats, which I love, but I've also volunteered at the shelter and love dogs, too. Unfortunately, my husband was attacked by a pit bull as a kid so no dogs for us. Our two cats have no mystique whatsoever; they are both big dufuses.
Thank you, Yumiko.
- by Oralia Schatzman
View Yumiko's professional bio | Go back to interviews