A Conversation with Connie Li, Clinical Assistant
Welcome as one of the newest member to our DHM family! To start off, tell us a little about yourself.  
I was born and raised in San Francisco, eldest of 3 daughters. My husband and I recently moved to San Leandro and we love it! According to my grandmother, I am most like my late grandfather, always reasoning with her! 
My mom inspires me and I get that spirit and work ethic from her. Growing up I always thought of her as a superwoman that balances between working, learning a new language (English), and raising my sisters and me as my dad was working from afar. I aspire to be like her, strong, with integrity and caring.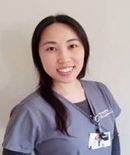 Everyone experiences life differently and ultimately creates their own path. Do you personally enjoy overcoming challenges or do you prefer things to be easy?  
My parents were both farmers growing up and the bright look on their faces when they harvest in our backyard reminds me of myself when I complete a project or overcome challenges. Nothing comes with more satisfaction than seeing hard work comes to fruition. I am definitely influenced by them!  
With only 24 hours a day, work usually takes up a good portion during weekdays or we might be busy during the weekends. If you didn't have to sleep, what would you do with the extra time? 
I would binge watch my favorite shows. I'm a huge nerd when it comes to Asian dramas and anime, I could always re-watch my all-time favorites! I'm a huge fan of Friends, Big Bang Theory, and Modern Family. In terms of anime, Bleach, Naruto, and Full Metal Alchemist are my favorites. I recommend all of them! I didn't list any, but I enjoy watching Asian dramas that feature female heroines and are in ancient times or fantasy themed. 
We all have favorite things to do or places to go. Is there a country or place you would visit over and over again?  
I would love to revisit Taiwan. I went two years ago and had a blast. Night markets were fun and there are so many places to explore. The trip was pretty affordable, as you can haggle your way through markets, and food was amazing! I also have to list Kyoto, even though I can't afford to stay there for more than a week, it's a beautiful place and they have the best mochi.   
View Connie's professional bio | Go back to interviews