Sarah Apgar, MD
Medical Director of
Goldman Medical Service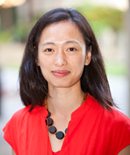 Ethel Wu, MD
Assistant Medical Director of Goldman Medical Service
The Goldman Medical Service began in April 2014. It is a direct care service; patients are cared for by hospitalists, nearly always without residents or medical students (electives on this service are available for trainees). The name of the service honors Lee Goldman, the Chair of the Department of Internal Medicine at UCSF from 1995 to 2006 and a mentor to several leaders in the Division of Hospital Medicine.
There are nine to ten Goldman teams each day, with an additional provider as a swing provider. They care for their patients from 7:30 am to 5:30 pm. The additional provider acts as a swing shift, cross-covering Goldman patients and admitting new patients from 2-11 pm (including weekends). The swing shift allows the other Goldman hospitalists to go home earlier in the afternoon if their patients are clinically stable.
The Goldman hospitalists attend a multidisciplinary meeting every morning to help with discharge planning for their patients. The team includes case managers, physical therapists, social workers, and pharmacists.
Patients are admitted to the Goldman service as holdovers, patients admitted by the night teams from the evening prior and signed over in the morning to the Goldman hospitalists. There is no selection criteria for patients assigned to the Goldman service except that they cannot be in the intensive care unit. They are otherwise equivalent to patients signed over to the Medical Teaching Service teams.
Questions about the Goldman Medical Service can be directed to Sarah Apgar at [email protected].