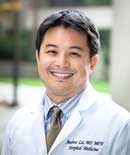 Andrew Lai, MD, MPH
Medical Director of
Procedure Service
The Hospitalist Procedure Service (HPS) is committed to providing the highest quality and safest bedside procedures to adult inpatients at Moffitt-Long Hospital at UCSF Medical Center. In addition, the service offers comprehensive teaching on safe and appropriate procedural assessment, technique, and follow-up to internal medicine housestaff early in their residency. The service, started in 2008 by Drs. Diane Sliwka and Michelle Mourad, was one of the first in the country devoted to providing bedside procedural care in a teaching environment. In this model, during a dedicated two-week housestaff rotation, hospitalists with extra procedural training and experience directly supervise interns in ultrasound evaluation and guidance in performing lumbar puncture, paracentesis, thoracentesis, and knee arthrocentesis.
In a 2012 paper published in the Journal of Graduate Medical Education, HPS faculty Drs. Michelle Mourad and Diane Sliwka showed in a randomized controlled trial that our service significantly improved the knowledge, experience, and confidence of interns early in their training, with effects sustained through their second year of residency. In a 2011 paper published in the Journal of Hospital Medicine, Drs. Michelle Mourad and Diane Sliwka also demonstrated that our service model was associated with high levels of patient satisfaction with inpatient bedside procedures.
The service is available to all adult inpatients from Monday to Friday, 8:00a-5:00p. HPS faculty also teach an annual "Mini-College" course on ultrasound evaluation and procedures open to hospitalists nationally each fall, as well as an annual dedicated half-day on vascular access for UCSF interns.
Questions about the Hospitalist Procedure Service can be directed to Andrew Lai at [email protected].