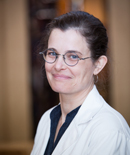 Maggie Jones, MD 
Medical Director of
Swing Services
ED Triage
The ED triage hospitalist serves as the gatekeeper to the medicine service, working closely with the ED and specialty services to ensure that patients are efficiently admitted to the appropriate hospital service. They are present in the emergency room from 2pm to 10pm.
The triage hospitalist triages admissions between Parnassus, Mount Zion, and our Dignity Affiliates at St. Mary's Medical Center and St. Francis Memorial Hospital. At Parnassus they work closely with both resident teams and direct care attendings to facilitate admissions. In addition, they assist with admissions during the busiest time of day.
Medicine Service Swing Admitter
The Medicine Service Swing Admitter is a direct-care attending who admits patients of all acuity levels to the medicine service between 2pm and 12am. They may also assist with cross cover emergencies and support resident admitters as an integral member of the swing team.
Please contact Maggie Jones ([email protected]) with any questions.