Interview with Brieze Bell
A Conversation with Brieze Bell, Assistant Clinical Professor 
As a hospitalist who splits time between Hospital Medicine and Palliative Medicine, please share a little more about yourself.
I am originally from Chicago, but I've lived all over the country. It has been wonderful exploring different regions and meeting wonderful friends in each place! I have three siblings, including one older brother, one older sister, and one younger sister. We are all extremely close and like to get together whenever we can. I LOVE dogs and animals of all kinds.
We currently have a mini labradoodle named Bodhi. She's the light of my life! I live in San Rafael with my husband Pete. We recently planted a garden and are working on several home improvement projects. I love being active and used to be a professional dancer. I'm a certified yoga instructor and still practice yoga regularly. I love to host dinner parties and party parties. Hopefully one day I'll be able to host you all at our home when parties are cool again!
Speaking of parties, one favorite family tradition I look forward to every year is our family reunion at Thanksgiving (it was quite hard to choose just one!). My dad is one of eight, so every year a different family member hosts the gathering, which usually ends up having about 30-40 people present. When we were little, my cousins and I used to dress up to put on impromptu plays or musicals for the rest of the family every year, which was always pretty fun and hilarious!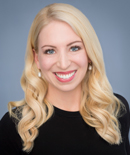 What originally got you interested to go into medicine?
When I was in high school, I danced professionally, which helped me discover an interest in health, nutrition, and wellness. Through this experience, I ultimately realized that I wanted to pursue a career in medicine with a focus on internal medicine and integrative health. At the time, I had no clue what this meant, but it led me down an incredible path of lifelong learning and connected me with so many amazing people. At every stage in my professional development, I felt excited and passionate about way more areas of focus than I could ever hope to pursue.
In many decisions about next steps, I learned to trust my intuition and this has been a valuable guide that has led me to the right decisions for me at every turn. In that spirit, my advice to my younger self (and to younger trainees!) is to trust your intuition when making important life choices. It will help your life be way more amazing and fun than you could ever plan it to be!
With your unique application of training of Palliative, Integrative and Hospital Medicine, what are some ways you see in how these can work together?
There are so many ways! One of the more recent projects I'm working on is the hospital-based massage therapy fellowship in collaboration with the Osher Center. This is a great example of integrating a holistic approach across several services by providing massage therapy services to patients in Palliative Care consult, Hospital Medicine 15Long unit and inpatient hospice.
What is the most difficult challenge thus far in your life?
In 2018, my mom died after a very brief experience with what turned out to be stage IV lung cancer. We found out she was ill just 1.5 weeks before she died, and I was very involved in helping her access care in New York where she lived. As she was preparing to come to the West Coast to live with my husband and me to begin treatment at UCSF, she suffered a massive stroke in front of me as her tumor embolized to her brain. I was her first responder, and ultimately was very involved in shepherding her and my family through her dying experience in the Columbia ICU in New York.
It was an incredibly painful and also profoundly meaningful and beautiful experience that I'm still processing. I'm glad my training did not fail me when I needed it the most. My mom was my best friend and my greatest inspiration. I carry her with me every day, and everything that she taught me (including through her end-of-life experience) helps me to be a better doctor and person on a daily basis.
Keeping a good balance can be a major challenge for many with their work and home life. How do you separate these?
This is a life's work and some days I feel I do it better than others. But I enjoy leaning into the transitions in my day in a few different ways. Having a dog really helps me do this because we get to go on a walk to start the day and after the work day ends (this is one way of how I deal with stress along with listening to music or favorite podcast!). I meditate daily and try to find time for exercise and to connect with my husband every day. I also love to spend time with friends and host gatherings—something I've really been missing this past year.
Let's end with something fun and light. What is the best thing that happened to you at work this past year?
The best thing has been officially joining the DHM this past year (which officially began in July, though I've been working with the division since last October). It has been a huge privilege to meet so many wonderful colleagues, care for patients on the inpatient service especially during the COVID pandemic, and reconnecting in a more formal way with trainees.
- by Lena Loo
View Brieze's professional bio | Go back to interviews