Interview with Colin Hubbard
A Conversation with Colin Hubbard, Senior Statistical Analyst
Welcome, Colin! As a new member of our growing DHM family, tell us a little bit about yourself.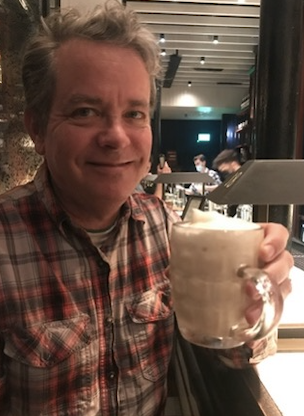 My wife Rachel and I live in Evanston, Illinois, a suburb just north of Chicago, and home of Northwestern University. We have two adult children, one in college in Southern California and another pursuing graduate degrees at the University of Illinois. We also have a big (slightly overweight), very needy, black lab mix (aptly) named Bear, who is functioning as our surrogate child since our children have so recently left the nest. I grew up in Orange County, but went to Carleton College in Minnesota, where I got to experience my first of many midwestern winters. After college, I moved to the Bay Area and lived in Oakland near Lake Merritt. I have many fond memories from that period of exploring San Francisco and the East Bay, and recall spending hours in all the great bookstores in Berkeley, including Cody's Books, University Press Books, and Shambhala (many now closed, unfortunately). After a few years, I moved to Chicago to pursue a graduate degree and have remained here ever since
As a child, what did you want to be when you grew up?
For most of my childhood I wanted to be a doctor like my father and namesake, who was a pediatrician. Every day, he would come home and share his clinical conundrums and stories of interesting cases (he spared us the tales of runny noses and coughs). I remember that when my mom would ask him how his day went, he would occasionally answer, "Oh, you know, just another average day … healing patients and saving lives." That sounded like a good job to me! Later, I thought about being a forest ranger or somehow getting on the cover of Time Magazine, but those plans haven't worked out (yet!).
Wow! That is big a shift from a doctor or forest ranger. How did you get into the Biostatistics field then and what advice would you give to your younger self? 
Biostatistics is a second career for me. For almost 30 years I was a paralegal, specializing in medical malpractice litigation. A big part of my job was researching the medical issues involved in a case, reading the relevant medical literature, and consulting with expert witnesses. I was persuaded to pursue a degree in biostatistics by my brother, who is a professor of biostatistics at Berkeley. He enjoyed his work collaborating with medical researchers and thought I would as well. He was right!   
As for advice to my younger self, I would say, "Have the courage to take a chance and try something new." I eventually did it, but I wish I had done so much earlier. 
What is one book or movie you would recommend to us? 
There have been so many books, it can be hard to choose. However, The Snow Leopard, by Peter Matthiessen, has to be close to the top of the list. I've read it many times. It truly is a work of finely crafted art and covers all the bases for me: Himalayan adventure, wilderness, philosophy, and Zen Buddhism. As for movies, I'm kind of obsessed with "Tinker, Tailor, Soldier, Spy." I can't really put my finger on why. Its evocation of 1970s England (of which I have no direct knowledge) seems spot on, and Gary Oldman is fantastic as George Smiley. I love its slow pacing and beautiful soundtrack. Many people (including most of my family) think it is the most boring and confusing movie ever made. My response: you just have to watch it at least 20 times like I have.  
What would you do if you were home alone and the power was out? 
Panic. Then look for a candle and a match. 
If you had unlimited resources, how would you live your life and what would you do? 
I think I would buy a cabin in the woods (location TBD), go on lots of hikes, tend to my garden, and raise goats and chickens (if there was a tennis court nearby, that would be a plus). My fantasy life is very analog.  
- by Lena Loo
View Colin's professional bio | See previous faculty interviews