Interview with Grace Krueger
A Conversation with Grace Krueger, Research Assistant and Project Manager at Center for Clinical Informatics and Improvement Research (CLIIR)
Most of us have a favorite family tradition we hope to continue to pass on in the future. What tradition is your favorite?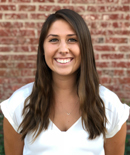 My favorite family traditions are on Christmas Eve. My family always eats Korean BBQ for dinner, gets new pajamas to sleep in, and gets a new ornament that represents something significant from our life that past year. We then watch "How the Grinch Stole Christmas" (my dad always falls asleep about 30 minutes into the movie) and eat Hello Dollies, which are a dessert bar that my great-grandmother used to make. Because of the pandemic, I spent Christmas of 2020 away from my family and it made me realize how much I value these traditions and the special time with my family.  
As a child, what did you want to be when you grew up and what was your favorite thing to do? 
As a kid, I fluctuated between wanting to be a ballerina, a cowgirl, and a doctor. I started riding horses when I was about 10 years old and was lucky enough to get my own horse a few years later. She lived at a barn a few blocks from my house, and I would ride my bike over after school to take care of her and go for rides. We competed in barrel racing, were part of a mounted drill team that performed at fairs and rodeos, and went for long trail rides and camping trips together. While I don't have a horse anymore, riding was my favorite thing to do as a kid and I miss it a lot.  
What would you do if money was not an issue?  
If money didn't matter, I would definitely want to do something altruistic like work for a non-profit that benefits underserved communities and works to reduce health disparities. But on the side, I think it would be really fun to be an ice cream maker and run an ice cream shop. I absolutely love ice cream and have so many fond memories of getting ice cream with friends and family. For my birthday a few years ago, I got an ice cream maker, so maybe someday I'll make that dream a reality! 
Do you have a quote that you live by?  
I really like the quote "Life's short and the world is wide." To me, it's a reminder that there is so much out there to explore in the world — places to go, people to meet, and experiences to have. It also pushes me to get out of my comfort zone and try new things, especially while I'm still young.  
How do you usually spend your spare time? 
I spend a lot of my spare time taking care of my puppy, Cooper, who is a rescue from the Caribbean. My boyfriend and I adopted him earlier this year, and we spend a lot of time training him and taking him on long walks. I also really enjoy hiking and camping, and I try to go hiking almost every weekend. I feel so fortunate to live in the Bay Area with such great access to parks, green space, and wilderness areas. It's also a goal of mine to visit all the National Parks in the US, so I'm slowly making my way through the list! 
If you didn't need to sleep, what would you do with the extra time? 
If I didn't need to sleep, I'd probably use that extra time to re-learn Spanish and do some volunteer work. I took 5 years of Spanish in high school but have lost a lot of my skills and vocabulary since then. I'm currently re-watching the Netflix series "Narcos" which is almost all in Spanish and it's inspired me to want to re-learn the language. I'd also really like to do some volunteer work within the San Francisco community that benefits children and young adults. While I've struggled to find time to do these activities this past year, I'm hoping to carve out some time in 2022 so I don't actually need to sacrifice sleep! 
- by Lena Loo
View Grace's professional bio | See previous faculty interviews