Division of Hospital Medicine Patient and Family Advisory Council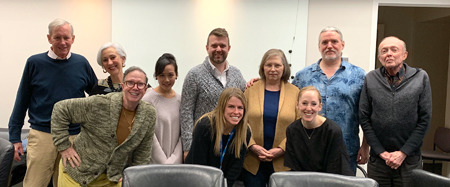 UCSF Health and DHM are actively working to strengthen our care teams and improve care for patients admitted to the Inpatient Medicine Service.
Despite recent strides, we know there are many things we can do better. One of the things we know will improve our effort to provide patient-centered care is involving patients and their family members, caregivers, and advocates directly as partners in the process. DHM started a PFAC in 2018 specifically focused on the needs of patients and advocates admitted to the Inpatient Medicine Service at the Parnassus Hospital.
We work directly with faculty and staff in DHM to ensure the patient voice is considered foremost in all of the Clinical, Quality Improvement, Safety, Research, and Patient Experience work we do on a daily basis.
We meet at the Parnassus campus monthly for an hour and a half in the evening. Food, refreshments, and parking validation are provided for meeting attendance.
Our Mission Statement:
A passionate group of patients and caregivers dedicated to improving the experiences and outcomes of patients hospitalized on the medicine service at UCSF Health, working specifically to:
- ensure equal access to care
- raise standards of empathic communication
- promote healthcare engagement through education
- champion a humanistic approach to hospital care
Highlighted Projects:
TBD for the moment! Will update soon.
Join us!
If you have experience with our Inpatient Medicine Service and are interested in joining our dynamic, diverse group of patients, family members, and caregivers, we would love to have you involved!
We are currently updating our online application. In the meantime, please email us at [email protected] if you would like to participate in our PFAC. 
Contact us!
Our group's co-leaders are Erin Yao-Cohen, MD (Assistant Clinical Professor), James Harrison, PhD (Assistant Adjunct Professor), and Michelle Cai (Quality Improvement Analyst).
If you have further questions, please do not hesitate to contact us anytime at [email protected].