UCSF Hospitalist Mini-College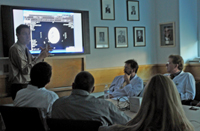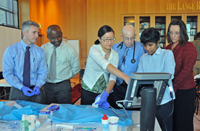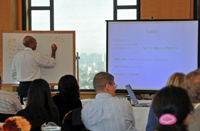 The 12th Hospitalist Mini-College will be held at the University of California, San Francisco for three days, October 14-16, 2019. To register, please visit the Continuing Medical Education site (click here for additional information). Our inaugural 2008 UCSF Hospitalist Mini-College was a success and highlighted in a feature article in The Hospitalist. In 2013, we also published an article describing the first five years of the course in the Journal of Hospital Medicine, which was accompanied by an invited editorial. We continue to sell out every year so please register early!
What previous attendees said about the program...
"Forward and clinically relevant. Like the bedside teaching and how they did it.The small size of the course and the close attention paid by the faculty teaching the course combined with the opportunity to see and examine patients in the hospital was outstanding."
"I thought the conception of the teaching model was really effective—hands-on exams in small groups, each demonstrating a different part of the neurologic exam, followed by presentation and discussion, and ending in bedside rounds with the teaching faculty."
"Great course. Id take it again and again. It was a superb opportunity to review technique, equipment, and clinical decision making."
Course Co-Chairs:
Trevor Jensen, MD
Associate Clinical Professor 

Robert Wachter, MD
Professor of Medicine
Chairman, Department of Medicine