Interview with Logan Pierce
A Conversation with Logan Pierce, Assistant Clinical Professor
We've known you as one of our clinical informatics fellow the past few years. Tell us more about yourself. What originally got you interested in your current field of work?
I grew up in San Francisco, California (in Noe Valley). My dad is an architect (originally from Virginia), and my mom is a real estate agent (originally from New York). People say I'm most similar to my dad, maybe because we both like being outdoors, crossword puzzles, and have a tendency to argue more than we should.
I had a natural inclination toward Medicine because of a longstanding interest in science and a desire to help others. I thought I was going to be an ER doc until my third year of medical school, when I found myself fascinated by the world of Internal Medicine and turned off by the chaos of the ED. In residency I discovered the Clinical Informatics field through UCLA's Resident Informaticist program, which led me to pursue fellowship at UCSF. If I could give career advice to my younger self (given what I know now), it would be to learn more about programming and computers as early as possible.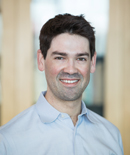 If you weren't in medicine, what career would you be in?
Honestly, I think I would choose the same job and I feel incredibly lucky that that is the case. I love the work I do, and I find it both challenging and extremely rewarding. If I wasn't in Medicine, I've always thought that I would have liked to be an engineer. I love figuring out how things work and dreaming up creative solutions to frustrating problems. 
If you didn't need money, what would you do?
I would still be a doctor even if I didn't need to make money, because I love getting to interact with new people every day, offer them support, and be intellectually challenged. If I had to do something outside of healthcare though, I would want to be an airline pilot and see the world, or a chef because I absolutely love cooking, experimenting, and experiencing culture through food.
It's the holidays right now, what's your favorite family tradition? What favorite memory do you have attached to it? 
My family has always had a big Thanksgiving, which is probably why it's my favorite holiday. The earliest Thanksgivings I can remember were at my grandma's house and we would have 20-plus people. I remember waking up to the smell of turkey, playing cards with my cousins, and watching football with my dad and uncles.
If you could learn any language fluently, what would it be? 
I'd learn Chinese Mandarin (and I'm currently working on it through an app called DuoLingo). I have always loved learning languages and I speak several of the Romance Languages, but Chinese is a much tougher challenge.
What would be the most amazing adventure to go on?
I would like to travel to outer space. Maybe even go to the Moon. I'm hopeful that in my lifetime, I'll get the chance.
- by Lena Loo
View Logan's professional bio | Go back to interviews