Interview with Rupa Marya
A Conversation with Rupa Marya, Assistant Clinical Professor
When did you first pick up a guitar? What is the quality of the sound of your guitar to which you particularly respond?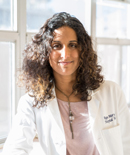 I was trained on piano and first picked up a guitar when I was nineteen because I wanted an instrument that I could teach myself, carry, and easily write music with. I play both an electric and nylon string acoustic and both are particular versions of what they are. My electric is a 10" body Gretsch (usually they are larger, 16") so mine is a mini-size, and it has a nice bite and articulation, very crisp and full. My acoustic is a nylon string crossover, a classical guitar with a smaller width for my small hands. It has nice warmth and body. I never formally studied but learned techniques from different players: huapangos from Oaxaca, flamenco techniques from musicians in Spain and France. I don't consider myself a very good guitarist. When I was a teenager in Palo Alto, I used to sneak into a bar to hear Stevie Ray Vaughan, Neil Young, Ani DiFranco and so many other great musicians.
If witnessing is political action, do you recall an early situation that as a child you knew you must change?
There were two. My first political awareness, and by that I mean, sharp power differential, was when I became aware of class difference in India. I was born here, but when I was very young I spent time with my grandparents in India and remember that I looked so much like the children in the street, yet my life was so different, protected, and privileged. I sensed it was a historical accident—there wasn't any true reason why our lives were disparate, that there were other circumstances that created my fortune and their lack. There was a great sense of powerlessness in what I witnessed, a theme that has been through much of my life. The second instance was when I was eight, when my father immigrated from India to New Mexico, where he did his Masters in Electrical Engineering. He would drive us throughout the Southwest, stop at every Indian reservation and make us get out and talk with people, and ask about their lives, their perspectives. My father was upset about the effects of colonialization here, where there was erasure and genocide, as opposed to India where the culture remained. For me, my work is to truly witness and to accompany in the most benevolent, helpful, and powerful way. Change isn't a direct result of anything I do, but as we all step into witnessing and accompanying others in their struggles, there are ripple effects.
Do you, like many musicians, also find expression in creating visual art? Do you have a favorite medium?
Yes, I do and I would never show it to anybody! I have a big journal that I take wherever I go. I like it big so that I can draw and, when I cannot write music, I find peace in making art. I work in watercolor, mixed media, acrylic and charcoal on canvas on large formats. For me, the journals are a private place of expulsion and they serve to keep my muse engaged when she is silent musically. When I see visual art that inspires me, or when I've worked with other visual artists, it is stimulating and I am inspired to write music.
Is there something about you for which you still must find voice? Something that within you remains elusive?
Yes, but I cannot entirely define what it is. I am going through a period right now of intense silence, ever since my son was born, rethinking what I am doing musically and my work, what I am doing with my time here on earth. It's caused a real inquiry into myself around my place and my heritage, of being an Indian woman with a son in this culture and society. I come from 700 years of Rajasthani history, and much of it is patriarchal so there are things about my culture that are difficult for me as a woman—a conversation that I've shared with other division colleagues. It is a question that goes deep within me, to a very tender and fragile place that I don't fully understand yet or have any idea of how to voice. But, I am an artist and artists are creative, so I have decided to tell my family story, our mythology, my own way and give voice to the question I cannot answer yet.
Which singers from the global community have inspired elements of your work?
Bob Marley, I love his naïve hope, and Manu Chao, his generosity of spirit. I love Lhasa de Sela, with whom I found a certain overlap in our development, although her music was softer, emotional, and deep and had a controlled aesthetic that I appreciated. I don't find myself inspired by global music per se but of really good music in a wide range. Lately I've been floored by instrumental music, such as Estonian composer, Arvo Pärt, whose work is mind-blowing. John Cage's music I've always been in love with, and Tin Hat, who I like because of the breadth of what they compose; they have elements of other types of music and you can tell that they've been listening, just like Debussy was listening to Gamelan. I love Joe Strummer and The Clash. What all of these people have in common is a very irreverent relationship to genre. The music industry likes narrow definitions of music and I don't like to be narrow; I like to be as broad and undefined as is our experience in life. The musical language is always changing.
Beauty is an experience that you have with something that feels unquestionably true. But please don't ask me what Truth is.
Is your son showing any inclination toward the passions of either parent?
He is very musical and makes up his own songs, where he sings the same melody (that he's made up) and has me sing "chugga chugga chugga"and Daddy, "whooo whooo!" and conducts us in three parts. He is extremely verbal and does wordplay where he drops the first sound off of every word and then tests us to see if we were paying attention. He is very physical, loves to dance and being around my band. He loves cooking and knows how to make pancakes by himself, and spends time at the Urban Farm with my husband in Oakland.
How does silence play into a world of sensory distraction? 
The last time I experienced such a period of silence, as I am in now, was before I came to UCSF, in 2001, after my father died suddenly at 52. I didn't play music for two years. I didn't write a single note or play my guitar. It is really hard to be in silence in our culture. It is hard to follow a line of thought and to harness imagery. To create images of power, find words that speak, I require silence and solitude.
How do you, or do you, protect what you feel is sacred when your public persona and private self overlap?
By having a good sense of boundary about what I will and won't do. The things that I stick my neck out for, I am deeply committed to as a doctor and human thinker—that are not an invasion of my personal life. So of course I would stand up and be counted. I've learned the value of being thoughtful and creating spaces, of having internal dialogue about what is sacred. The amazing gift of motherhood is that it has shown me my own human limitations, that I must choose and pick what is and isn't important. I recognize what is sacred and devote myself to that effort.
Thank you, Rupa.
- by Oralia Schatzman
View Rupa's professional bio | See previous faculty interviews