Medicine Consultation Service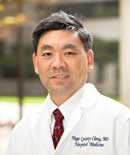 Quinn Cheng, MD
Medical Director
of Medicine Consultation Service
At UCSF, major operations are routinely performed on patients deemed too sick for surgery at other institutions. These patients are prone to medical complications and require attentive perioperative medical care. The Medicine Consultation Service (MCS) assists in this mission by evaluating and treating medical problems in patients hospitalized on UCSF's non-Medicine services.
The MCS is available 24 hours every day at Moffitt-Long Hospital, the Ambulatory Surgery Center, and Langley Porter Psychiatric Institute. Common reasons to obtain a medical consultation include:
Acute medical problems, e.g. respiratory distress, delirium, electrolyte disorders, venous thromboembolism;
Chronic medical problems, e.g. cardiopulmonary disease, diabetes, polypharmacy;
Preoperative medical evaluation and postoperative medical management for hospitalized patients;
Request to transfer a UCSF inpatient to the Moffitt-Long Medical Service.
All consultations are performed by a hospitalist attending physician, generally with the assistance of a UCSF internal medicine resident. The service also provides a didactic curriculum on preoperative evaluation and perioperative medicine appropriate for both residents and practicing physicians.
To obtain a consultation, please call the consult pager, (415) 443-4283. For questions about the MCS or for information about obtaining a syllabus and other didactic materials, please contact Quinn Cheng at [email protected].